Under Siege, Magazine Industry Pauses to Honor Martha, Moore

MPA presents lifetime achievement awards to Stewart, Time Inc. CEO.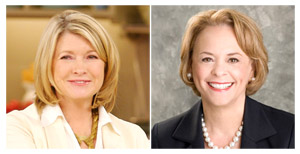 NEW YORK—There were no mentions of "layoffs" at the Magazine Lifetime Achievement Awards. Not at Time Inc. or Condé Nast or Reader's Digest.
For any industry besieged by cutbacks, closures and plummeting revenues, the 300 or so executives gathered here at the Plaza Hotel Thursday to honor Time Inc. CEO Ann Moore and Martha Stewart seemed to be taking a break from that harsh reality, and were making a painstaking effort to stay upbeat.
SEE RELATED SLIDEHOW: MPA Lifetime Achievement Awards
In an unscripted introduction, former Time Warner chairman Dick Parsons, joked about his tenure as CEO as the worst in the company's history. "We managed to vaporize $200 million in shareholder value," he said. "Today, that seems like nothing."
Parsons, who is set to become the chairman of Citigroup, described Time Inc. as an "old boys club" and Ann Moore's improbable climb up the corporate ladder.
"She was relentlessly optimistic," he said. "Ann is the most complete and effective magazine executive I know."
In a videotaped tribute, Jeffrey Bewkes, Parsons' successor, quipped that getting a lifetime achievement award "means you're about to die."
Moore, who accepted the Henry Johnson Fisher award, outlined the 10 reasons she's optimistic about the industry's future (no. 1: "We're not in the newspaper business"), the need for editors ("good, fact-based information is not going away") and recalled the "good 'ol days" of three martini lunches—when her office at Time Inc. included a "fully-stocked bar with fifths of every liquor from every advertiser." As an industry, she said, "we've sobered up."
Late last year, Time Inc. laid off as many as 600 employees in a broad restructuring, part of what Moore said Thursday was "getting our house in order."
'Yes, Even Some Straight Men'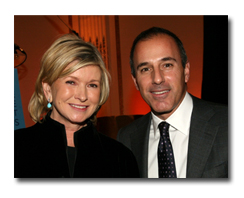 Today show host Matt Lauer, introducing Stewart's entry into the Magazine Hall of Fame, joked about Stewart's past. "I commend [the MPA] for ignoring your persistent steroid use," Lauer said. (There was no mention of the imClone stock scandal nor Stewart's subsequent jail term.)
Lauer spoke of Martha's universal appeal among women, men "and, yes, even some straight men."
Of his friendship with Stewart, a frequent guest on the Today show, he added: "The only thing we haven't done is have sex—and if you would've just put down the glue gun that might've happened, too."
Stewart recalled her struggle to find a backer to launch Martha Stewart Living—Si Newhouse founded the prototype but ultimately declined—and her decision to buy the magazine back from Time Inc. after an executive confronted her about working from her Westport, Connecticut home, rather than Manhattan. Said Stewart: "I wasn't good about following the hierarchal chain of command."
Meet the Author
---