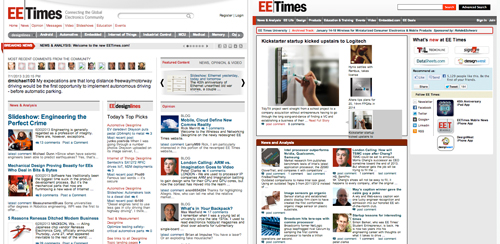 After shuttering its print publications earlier this year, UBM Tech has unveiled the first major elements of its new community- and events-driven strategy.
The company relaunched flagship electronics site EETimes.com yesterday, emphasizing comments, UGC and events content on its homepage.
The changes—which include a recent comment panel above the fold, comment posting directly from the homepage and seamless integration of blogger and editor content—bring EE Times more in line with a popular community-driven subsection of the previous site called EE Life, says Karen Field, senior vice president, editorial director of EE Times and general manager of DESIGN West.
Moving that dynamic to the front page brings a mix of information and conversation that ultimately drives engagement.
"Engineering is one of those professions where a lot of tacit knowledge is shared within the community," Field says. "That conversation now is not just relegated to EE Life, it's threaded throughout out entire site. Even the smartest engineer out there isn't interested in just seeing equations on our site."
The shift in content mix requires a commensurate shift in editorial focus though. While the edit staff has remained unchanged from a personnel standpoint, it's taking on more of a moderator role.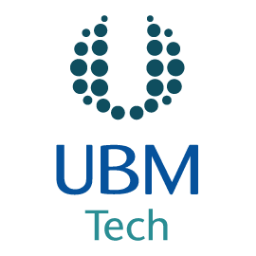 Integrating Events
The responsibilities of managing a community instead of a content stream extend to UBM Tech's events, as well. EE Times editors—and, by extension, the readers—were integral in developing conference content for this year's DESIGN West.
"We all understand that just blatantly promoting to readers to come to our show isn't very useful," Field says. "But when you have an engaged audience, who's been following the whole development of a workshop as its being put together by the editor, we then see an audience who's built awareness, who's having fun, who's weighing in on how things ought to go. It helps create ownership and they have a stake in it."
Field says a few of the company's smaller brands have been pursuing similar engagement models with success so far.
Meshing digital and events properties has been a central goal of the UBM Tech reorganization though, making its way through the company's ranks.
Field's own recent promotion from Content Director of DESIGN West to SVP, Editorial Director of EE Times and General Manager of DESIGN West, along with yesterday's promotion of Patrick Mannion to Vice President and Brand Director of the Electronics Group, link media and events at an executive level.
To stay updated on the latest FOLIO: news, become a Facebook fan and follow us on Twitter!