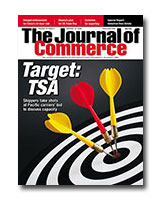 UBM Global Trade, formerly part of East Windsor, New Jersey-based b-to-b publisher Commonwealth Business Media, said Thursday it will merge Traffic World and Journal of Commerce magazines into one.
The new magazine will launch March 2 under the Journal of Commerce banner, the company said. The editorial content of JOC's four regional publications (Pacific Shipper, Shipping Digest, Gulf Shipper and Florida Shipper) will be combined into the new publication.
The merger comes a little more than a month after London-based parent company United Business Media reorganized Commonwealth into two divisions: UBM Global Trade and UBM Aviation.
According to magazines vice president Liam Power, these changes are "squarely in line with proven drivers of growth in b-to-b media, and our positioning is at the leading edge of publishing in shipping and logistics."
Additionally, UBM's global trade group says it will enhance JOC's news coverage by including data and analysis from Piers Global, its international business information division.
The new JOC will carry a weekly paid circulation of more than 15,000, the company said.