UBM Launches New Marketing Services Unit

DeusM will "set conventional Web 2.0 wisdom on its head."
UBM has launched a new integrated marketing services company called DeusM that will leverage "business social media" as its primary offering.
"If you go into a meeting with any of our major advertisers, the number one thing they're asking for now is engagement," says DeusM managing director Stephen Saunders. "We want to see potential customers involved with their messaging and talking to them onsite."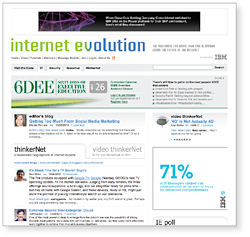 "Community In a Box"
DeusM is based on Community in a Box (CiaB), a platform that offers the structured system of b-to-b Web publishing with social media. The service develops specialized, proprietary communities for sponsors, which can also take advantage of broader social networks like Facebook, Twitter and LinkedIn. UBM has already leveraged that approach to launch three different communities in Internet Evolution (sponsored by IBM), Enterprise Efficiency (sponsored by Dell) and EBN, which has multiple sponsors. Three more CiaB communities are scheduled to launch before the end of the year.
Driven by Original Content
While the sites include a major social media component, they will also be content-heavy. "That's what we use to attract people, huge amounts of proprietary content," says Saunders. "I don't believe in aggregation and we're going to turn a lot of conventional Web 2.0 wisdom on its head. We're going to edit blogs and make bloggers second source stories and fact check, all the things you're not supposed to do with blogs but we do anyway."
Editors will spend a third of their time blogging for the site, another third working with contributors and editing articles and another third talking to people in the community. "It sounds simple, but it's difficult to find editors who are prepared to do that, particularly editors who have already gone the through transition of print to online. It's almost like we're giving them another transition to community," says Saunders.
Clients can have as much involvement as possible. IBM offers UBM technical papers (one set of IBM white papers was downloaded 14,000 times in one month). "There is clear demand for information from sponsor companies," says Saunders. "The system lets us tag content on the sites with relevant keywords that are then used to serve relevant materials. If you're reading an article about data centers, all of the information around that article will be about data centers. Contextually serving information is a very important part of what we do."
Saunders says this offers a more sophisticated approach than banner ads or print buys. "We're allowing these advertisers to create long-term engagement with clients," he says. "These days, the buying cycle lasts for years. It's not a three-minute, three-day or even three-week cycle. It's a smarter way to approach marketing than dealing within the limits of, say, print advertising where you just punch people in the face and say, 'this is what we stand for, buy the product before you turn the page.' It's also ludicrous that people would put banners into rotation with other people's banners. The reason they do that is a holdover from print."
The sponsored sites will offer micro-deliverables ranging from brand education to lead generation. Price will depend on those deliverables. "If there are Webinars, we price the Webinars. If it includes banners, we'll price that," says Saunders. "We'll charge to build for lead generation. We're offering an a la carte menu, this isn't an economy class rate."
Meet the Author
---