UBM Considering Merger

Company confirms discussions with Informa, calls potential deal 'uncertain.'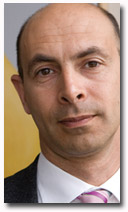 London-based United Business Media, parent company of the former CMP Technology, is considering a merger with academic and scientific information and events company Informa, both companies have confirmed on their Web sites.
The boards of directors for both companies are still in the early stages of discussing the potential all-share merger. Both companies indicated online that there is no certainty that a deal will be finalized.
A report in London's Sunday Telegraph newspaper speculated that Inform's CEO Peter Rigby could be named chairman of the potentially merged company. David Levin [pictured], CEO of UBM, would serve as CEO.
Merrill Lynch is said to be advising UBM on the merger talks while, Greenhill, another financial group, is said to be advising Informa.
It was not immediately clear what a merger would mean for UBM's magazine business. A UBM spokesperson declined to comment.
"The combined company would be a real media and information powerhouse that could exploit international opportunities—in the U.S., China, India, etc.—better than the two companies can on their own," Reed Phillips, managing partner at Desilva + Phillips, told FOLIO:.
In February, UBM announced a major restructuring of CMP Technology, effectively transforming the company into four separate businesses to be led by four different CEOs. The dramatic restructuring came nearly two months after Steve Weitzner, who was moved from CEO to chairman earlier this year, left the company in January for rival publisher Ziff Davis Enterprise.
Meet the Author
---