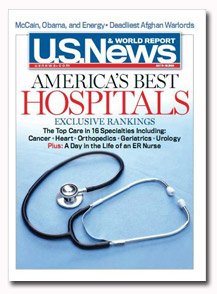 A month after it announced a shift biweekly frequency in 2009—effectively ending its status as a "newsweekly"—U.S. News & World Report this week unveiled an extensive redesign of its magazine.
The redesign includes a new logo, typeface, retooled front-of-book and feature well showcasing longer pieces.
"That new logo you see on the cover is not just a cosmetic makeover," editor Brian Kelly wrote in a note to readers. "It signals a new era for U.S. News. We're changing the way we think of the magazine."
In an interview with FOLIO: in New York late last week, U.S. News president Bill Holiber said the redesign, in the works for over a year, reflects a shift in the company's editorial strategy, moving the brand away from a newsmagazine toward becoming a consumer guide of personal and "public service" journalism. "It's about how news affects our reader's lives," Holiber said.
"We stopped chewing over last week's events years ago in order to give you more timely perspective and analysis," Kelly wrote. "But the rapid rise of the Internet has caused us to rethink that model as well." That means more resources devoted to the Web, the magazine says. USNews.com generates 5 million unique visitors a month, and Holiber says he would like to double that in the next year.
Will Advertisers Buy In? 
The changes at U.S. News come at a particularly tenuous time for the magazine—and category.
Through June, advertising pages were down over 30 percent over the same period in 2007, according to Publishers Information Bureau figures. At Newsweek, advertising pages were down 22.4 percent, while Time ad pages were down 21.1 percent. Even at Dennis Publishing's The Week, ad pages were down 12.2 percent during the first half of the year.
Prior to the announced frequency shift, the magazine had cut its rate base from 2 million to 1.5 million, while already having rolled back its frequency from 46 issues per year to 36.
"Some things won't change," Kelly added. "We take seriously our role to provide information that helps people make decisions, whether it's about presidents, health plans, or colleges. … We look forward to helping you make sense of it all, however we reach you."