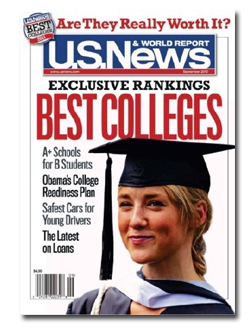 U.S. News & World Report has taken another step in its evolution away from the printed magazine. In a memo to staffers Friday, CEO Bill Holiber and editor Brian Kelly said the publication would cease printing a regular monthly magazine for subscribers. Instead, U.S. News will publish only a series of single-topic issues that will be available on newsstands and for "targeted distribution."
Those special issues will include the magazine's college, graduate school, hospital and personal finance guides, as well as four newsstand special editions focusing on history, religion and "some of the other subjects that have been a success for us in the past."
According to the memo, which was published Friday by Romenesko, the December issue of U.S. News will be the last that's sent to subscribers. The note said that the magazine's print and digital edition subscriptions "will be filled by other publishers," although those publishers were not identified.
"All of us at U.S. News Media Group have been aggressively responding to the changing habits in the media marketplace, and these latest moves will accelerate our ability to grow our online businesses and position ourselves to take advantage of the emerging platforms for distributing information such as the iPad and Android tablets," the memo says. "We'll discuss this in more detail in meetings starting next week."
Once considered a distant third in the newsweekly category to Time and Newsweek, U.S. News & World Report announced in June 2008 that it would shift its frequency to biweekly in 2009. By November 2008, with print advertising in a precipitous decline, the U.S. News Media Group amended its plan, opting to go monthly instead.