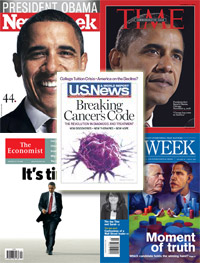 The reports this week that U.S. News & World Report, a magazine once considered a distant third in the newsweekly category to Time and Newsweek, is again reducing its frequency weren't surprising.
That the magazine—which had already announced it would go bimonthly in 2009, effectively ending its status as a newsweekly—would instead go monthly makes sense, given its intended shift in editorial direction away from news to what president Bill Holiber referred to this summer as a consumer guide of personal and "public service" journalism. As one commenter wrote, "biweekly is publishing no-man's land, let's see if they can effectively rebrand." (Holiber didn't return my phone calls or e-mails, and a spokesperson for U.S. News would not confirm or deny the frequency change, or even confirm its current frequency.)
But a frequency change and editorial Jedi mindshift don't disguise its brutal advertising performance. Through September, ad pages for U.S. News were down 28.2 percent, the biggest decline in the category.
That the story was broken rather gleefully by the Washington Post—which owns Newsweek—wasn't surprising, either. (Mmbers of this is a category love to trash talk each other.) But perhaps they should be keeping a closer eye on their own house before trumpeting the demise of others: last week, WaPo Co. reported third quarter net income of $10.3 million, down 85.6 percent compared to a $72.5 million income during the same period in 2007. And the troubles at Time Inc. are well documented.
Print advertising is in a precipitous decline for the consumer magazine industry; for newsweeklies, it's particularly grim. With the exception of the Economist, ad pages are down significantly across the category. If things don't get better, in a year we could be seeing all newsweeklies go the way of U.S. News.

Long, Slow Goodbye
| | | | |
| --- | --- | --- | --- |
| AD PAGES | JAN-SEPT 08 | JAN-SEPT 07 | %CHNG |
| ECONOMIST | 1,769.13 | 1,670.71 | 5.9 |
| NEWSWEEK | 1,034.68 | 1,244.06 | -16.8 |
| TIME | 1,179.46 | 1,459.74 | -19.2 |
| U.S. NEWS | 848.65 | 1,181.89 | -28.2 |
| THE WEEK | 381.62 | 400.03 | -4.6 |
SOURCE: PIB