Magazines make music. The good ones do, anyway.
Ideally, it works something like this: You open the book … a blaze of pixels assaults your eyes (in a good way) … text and type bound amid photographs, illustrations, corridors of white … as you proceed, the cadence is uneven … there may be a momentary lull … then, suddenly, percussion and a crescendo — a Big Feature! … followed, momentarily, by a sharp exit.
In all this coruscating choreography, a distinctive noise arises.
This is the sound of an orchestra as conducted by skillful magazine creatives. It's what separates great books from the plebes, which emit beeps and scratches.
I won't always be to able to talk here about titles that produce marvelous music. But today, luckily, I have two such (plus a bonus at the tail-end if you hang with me). Both are brand-new books.
Take, which is James Taylor coffee house.
And Popular, which is Miley Cyrus rock.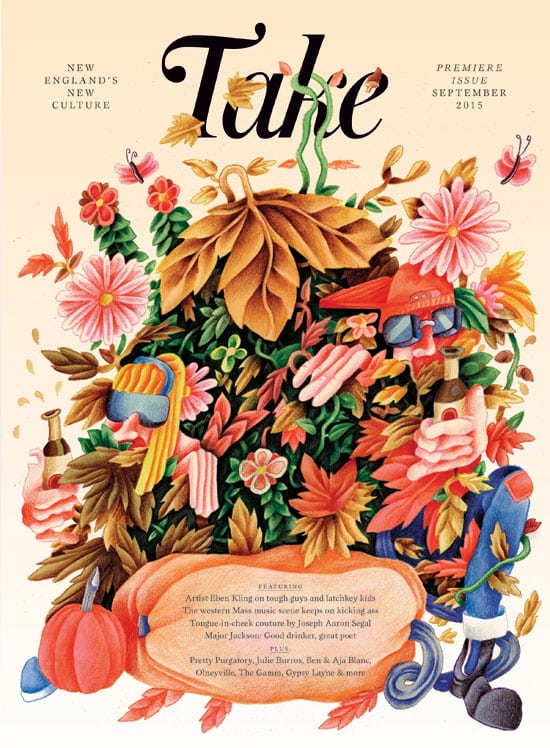 The tagline of Take is "New England's New Culture." Think of it as a pared-down thematic variation on the South's much praised Garden & Gun.
Take is a labor of love, made by people who understand how the magazine medium is fundamentally different from other media. On what evidence do I conclude this? A few weeks ago, here in The Modern Magazinist, I wrote that perfect-bound spines are prime edit territory, often wasted. Jeez, do something useful with that space, I pleaded.
Well, the spine of Take's September debut reads "HOLY CRAP! IT'S OUR FIRST ISSUE!" No kidding. Would I make that up?
Right away, I knew I would like this book. It's got a point of view. A self-referential attitude. Holy crap!
Oddly, that spinal exuberance doesn't carry through all of the magazine. The voice is actually muted, albeit classy. (Aside: When I moved to the Boston area some years ago, neighbors suggested that to be accepted as a local I should make no effort to stand apart in any obvious way. That's the region's defining sensibility, I was advised: modesty. Take takes this to heart, and to its pages.)
How good a job does it do as a chaperone into the high- and low-brow cultural precincts in the communities surrounding Greater Boston, which is New England's culture capital? Well, let's say it's off to a promising start. The book is disciplined; it does not go too far afield in its first try, as if to suggest, "Hey, give us some time to grow."
After all, the magazine's founder, Michael Kusek, says in his Publisher's Letter that he began thinking about Take way back in 2007. From the very first, he writes, "a magazine … on paper … seemed like not just a crazy idea, but a very, very financially bad one to explore." It was eight years from bright idea to bound book, so yes, let's be patient.

Three separate covers were printed for Issue #1. I got the pretty, if funky, version — an original piece of art that speaks to autumn in New England. The variants are so completely different—one's a stylish photo portrait against a white background, the other a colorful group photo—that there's little hint of where Take's artistic heart will land in the months to come.
Finally, there's one other bit that endears me to this infant—a reason to believe that a true magazine guy was working overtime in the run-up to the launch. In a burst of regional pride, the masthead includes all the lyrics of the song New England, right down to every "Dum, de dum, de dum" and "Doodly, doodly, do, do, doo." Not exactly Sweet Baby James, but it'll doodly do.
Now, to Popular.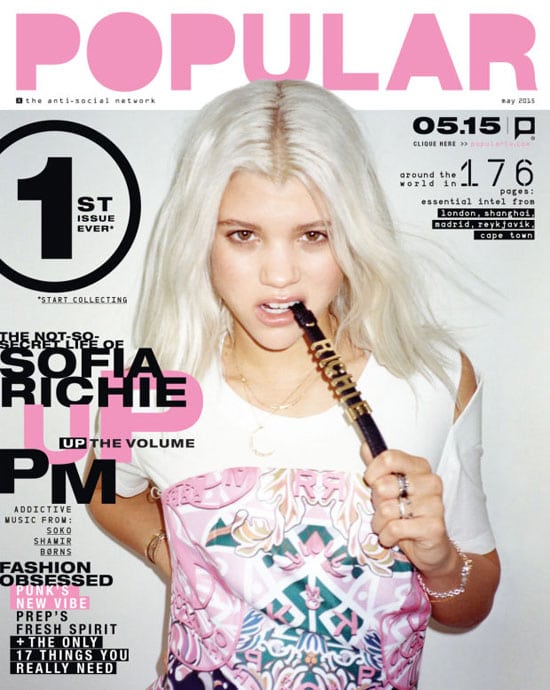 It's intended to be a quarterly devoted to the frenetic lives of fashion- and celeb-conscious teen-age girls.
The thick inaugural issue dropped in April, and it was terrific. There's been no follow-up, however, and no word from its high-profile founders, Marvin Scott Jarrett and his wife, Jaclynn Jarrett, who formerly ran Nylon. So it may be that Popular wasn't popular enough with readers and advertisers to justify a follow-up issue.
The first one was certainly expensive to produce. Imagine: gorgeous paper stocks (yes, plural) and a tipped-in eight-panel poster, all in the service of playful, complex layouts slathered with layers of non-stock photography.
The edit team got the voice right, I think. Rebellious, loud, and flaunty. But also respectful of fashion's instrumental role in telling the story of a disaffected generation. No easy feat.
I hope we'll see more issues of Popular. It's a damn good magazine-maker's showpiece. Smartly dressed (in an anti-social sort of way) and raucous. That's its distinctive music.
*****
Now, with Labor Day behind us, I thought I'd clear my desk. Thus, a few quick hits on topics of lingering interest (to me).
FORTUNE'S FOB: With each issue under new editor Alan Murray, the front of the book—which was once a hideous, barely readable mess—is looking tidier. Not long ago, under former management, I recall seeing seven or eight blocks of type before a reader even arrived at the first word of a story. Lately, there's been a streamlining going on. Overdue, but appreciated. Fortune competes in a tough category it once owned. So, any moves to lure eyeballs has got to be applauded.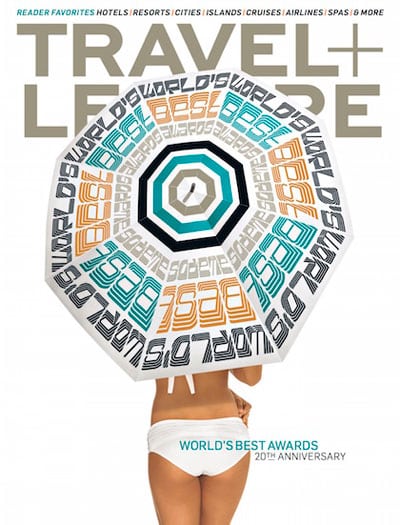 TRAVEL & LEISURE'S BEAUTY: One of the summer's more striking covers graced T&L's "World's Best Awards" issue (dated August). A lovely piece of custom typography by Tom Brown. I'd call it frame-worthy.
WITHER V'S FOLIOS?: Okay, so V is one of those oversize fashion books that doesn't like to play by the conventional rules. I get that. It's cool. Still, that doesn't entitle you to run folios so sparingly that they're basically useless for navigation purposes. Where are those page numbers? Where? Why even bother with a TOC, then? Not cool.
THE "NEW" MODERN TRADER: Futures became Modern Trader earlier this year. Its publisher, Jeff Joseph, sent along a handwritten note touting the magazine's "transformation." Well, it's got a new trim size and nicer paper. Plus the first ish featured an unexpectedly comic-bookish cover illustration. Sweet. Other than that, there remains a lot to be done before the word "transformation" is applicable to Modern Trader, which serves the needs of investors. The music this magazine makes? I hear none.
SOMA SO WHAT?: I also was recently sent several issues of SOMA, the "internationally acclaimed magazine of culture, fashion and the arts" (by whom? I might inquire). The book serves the San Francisco Bay Area and has been around for a while. Its publisher/EIC asked me for my opinion. So: What we have is high-quality reproduction of photographs and a mostly by-the-numbers design. The stories are not especially memorable. Covering a similar beat, Take's debut (see above) demonstrates superior magazine-making skills all around. The music this magazine makes: Barely audible contemporary pop.
MARIE CLAIRE'S SAMSUNG PHONE COVER: Best execution I've seen of an ad that wraps halfway over a front cover (June ish). A glossy image of the new phone plus minimalist text—"PRESENTED BY SAMSUNG"—and nothing more. There are so many ways to go horribly wrong with this sort of intrusive advertising, but it's hard to fault Marie Claire and Samsung this time around.
THE COSMOPOLITAN DUST-UP: The war between Hearst heiress Victoria Hearst and Cosmo, which Victoria claims is too sexually explicit on its covers, made some news over the summer. Cosmo's team is fighting back, of course. How will this end? Oh, please. The book is rocking. It produces music that sounds like a slot machine dispensing a jackpot. Expect sex as usual.