Twittifying SPIN

Is music mag's choice to move reviews to Twitter clear-eyed or reductive?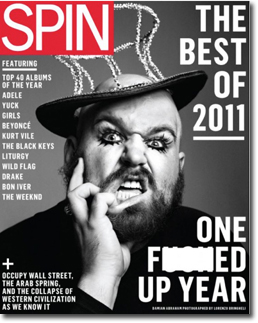 This week, music magazine SPIN announced its decision to run the lion's share of its music reviews on Twitter in 2012. Under the handle @SPINreviews, SPIN's eight staff editors (and a team of freelancers) will weigh in on over 1,500 albums in 140 characters or less throughout the year. The decision comes amidst other changes at SPIN, including an editorial realignment marking a heavier focus on digital.
On SPIN's blog, senior editor Christopher Weingarten makes valid points to back this decision. In the digital era, fans often privy to records at the same time music critics are. Leaked albums abound; though, the cynic is me suspects the artists/record labels/PR teams behind them sometimes may be responsible for these leaks. Case in point: in the summer of 2010, songs from Taylor Swift's hit album "Speak Now" leaked 12 days before the official launch, forcing Big Machine Records to release it early. Within hours, the single "Mine" was number one in iTunes. Hello, publicity.
Weingarten rationalizes, "The value of the average rock critic's opinion has plummeted now that…you can listen and decide for yourself whether it's worth a damn." He also says this method will spare SPIN readers lengthy reviews of mediocre bands: 140 characters later, we'll know whether an album is worth buying.
Weingarten is correct in this thinking, to an extent. But I think he's neglecting some of the largest pleasures of an album review, perhaps purposely: the in-depth parsing of a band's journey, the decoding of instrumentals and influences from an expert's point of view. In an overly politically correct, PR-manned media world, candid music reviews are refreshing, and never more needed. What would Cameron Crowe say about all of this? The music review is considered an editorial staple in a music mag's table of contents.
That being said, SPIN will still run 20 long-form reviews monthly on its website. SPIN released 1,000 album critiques on Twitter in 2009, and the strategy must have produced measurable success to be repeated in 2012. I also suspect the one-sentence reviews are borne of a business necessity: 1,500 reviews are a lot, especially for an in-house editorial staff of eight undoubtedly crazed with other responsibilities.
Fortunately, like many digital decisions, this strategy does not have to be a permanent model. It will be interesting to see how fans, and the music industry overall, react to SPIN's compressed reviews.
Meet the Author
---