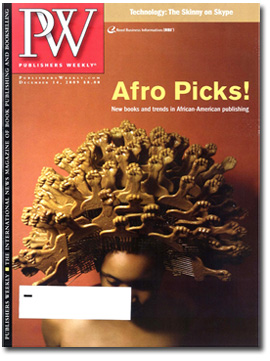 If attention is what it wanted, Publishers Weekly succeeded.
For its December 14 issue cover, the Reed Business Information title used a photo entitled "Pickin'," shot by photographer Lauren Kelly for a new book by Deborah Willis called, "Posing Beauty: African American Images from the 1890s to the Present." Willis, an African-American, is the head of New York University's photography and imaging department.
The cover [pictured] caused a firestorm on Twitter. Publishers Weekly senior editor Calvin Reid, who is African-American, chimed in over the magazine's feed, claiming he and the magazine's creative director chose the cover photo and wrote the cover line. Here are some of Reid's tweets:
@PublishersWkly: I admit that I love afro picks! In the 1970s I had many just like them also stuck in my massive afro. . .
@PublishersWkly: . . and it's a story about 'picking' books. I love dumb jokes.
@PublishersWkly: While I respect everyone who may be offended, I think the photo is a delightful and wry expression of historical Afro Americana.
Even Felicia Pride, the cover story's author, admitted via Twitter that the cover was, well, a bit shocking:
@feliciapride: I too saw PW cover yesterday. Mouth dropped. Still, I hope you can read my article
What do you think? Is the cover offensive? Funny? Outdated? Ignorant? Poorly executed?
Here's a select sampling of the comments that have flooded Twitter. Feel free to leave your comment directly to this post.
@yasminhamidi: Ya, I'm not feelin this Publishers Weekly 'Afro Picks' cover. Agree that it's 'artful but out of context'

@Gripemaster: Why are we suprised? This is the same mag and editors who couldn't find 1 good novel from a female writer for Top 10 of 2009.

@ChristineTB: Calvin – I owned "Afro Picks" too. But your photo selection, given the current climate which marginalizes AA writers, was poor.

@ActsofFaithblog: Hipster Racism FTW @PublishersWkly #afropw –And when you go under like so many other publications you'll know why. Cheap shots = FAIL!!

@charabbott: Beyond PW's cover (which I found fresh & funny), what's disturbing is the ARTICLE: e.g. less serious black fiction is being pubbed.

@StrachanLit: I find the PW cover to be a clever play on words, but I'm not African American. It seems vaguely wrong–but why?

@MaggieHilliard: The more I look at/learn about the #afropw cover the more I think the image works, but the copy's too glib.

@angel_atee: At first it's like, what the hell? Then you look at all those little fists and you realize what it is-overkill. Art.

@baratunde: #afropw cover about "picking" black books featured actual picks. Coulda been worse. Coulda been cotton.