Twitter's Great Leap Forward is … Great

Social media site makes fundamental changes beyond 'just words.'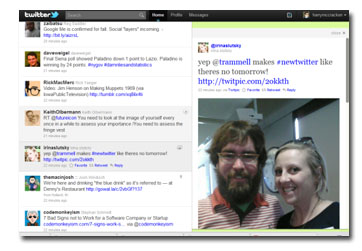 I can't remember many–any?–examples of a popular service or piece of software changing so much all at once as Twitter is doing with its new redesign. (If you don't have it yet, hold on: The company says it'll be a few weeks until it completely replaces Old Twitter.) It brings elements other than words onto Twitter for the first time–photos, videos, and maps. It fundamentally changes the service's interface, with a roomy, context-sensitive right panel that reminds me of Twitter for iPad. It displays threaded conversations. It includes a bunch of subtleties, like keyboard shortcuts. (TechCrunch's MG Siegler has a good roundup of some of the revamping's less obvious improvements.)
In short, it moves in the direction that Twitter was clearly going in anyhow–but it's one big leap rather than a series of baby steps over months or years. And it still feels like Twitter.
There are certain things I don't like or–worse–don't understand. (For instance, the right panel shows different information for different hashtags, and if there's a pattern I can't spot it.) And the embedding of media takes so much of the mystery out of browsing around Twitter that cryptic short URLs such as Bit.ly links l00k even more cryptic than before. But after using it for a few hours, I'm awfully impressed.
(Okay, one petty, pointless complaint: The far wider interface means that virtually everybody who's tried to plop useful information on their Twitter backgrounds will have to redo their wallpaper, and there really isn't enough room left along the edges to do much of anything useful. I get why that's the case, but it's a little like coming home and discovering that your landlord expanded your apartment by building an extension into your flowerbeds.)
There's certainly going to be a thriving market for third-party Twitter clients until Twitter.com supports multiple accounts–and for a long time after that, probably. But for the first time, Twitter.com is one of the best Twitter clients. The company says it put this sweeping update together in about six months; if it keeps working at the same pace, I wonder how cool Twitter will be in mid-March of 2011?
If you've got access to the new version, I'd love to know what you think.
[EDITOR'S NOTE: McCracken's post originally appeared here.]
Meet the Author
---