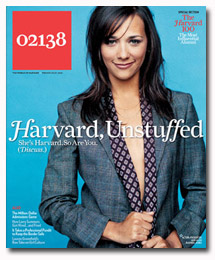 The founders of 01238, the irreverent lifestyle magazine for Harvard alumni launched in 2006, have sold the title to Manhattan Media, a community newspaper publisher and owner of Avenue magazine. Terms of the deal were not disclosed.
Atlantic Media, which had owned a minority stake in 02138, sold its interest, too. Sandow Media, the publisher of Worth magazine, had been close to a deal to buy the magazine, according published reports and a source with direct knowledge of the talks.
While Sandow failed to acquire the magazine, the company managed to hire away 02138 executive editor Richard Bradley as Worth's editor-in-chief. Bradley's hiring was announced today.
The owners of Manhattan Media, which also publishes the New York Press, plan to increase the quarterly's frequency to six times per year in 2009, as well roll out similar magazines for all eight Ivy League universities.
The so-called "Ivy League Media" will also launch social networking Web sites for each of the schools and a live events division.
01238 has a controlled circulation of about 100,000.