TV Show to Launch Real Online Magazine for Fake Print Title

Young and the Restless rolls out RestlessStyle.com.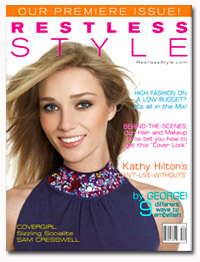 In a entrepreneurial move so synergistic it may make your head explode, the Young and the Restless—yes, that Young and the Restless—is launching a real "online fashion and lifestyle magazine" to coincide with the fake launch of a print magazine on the show. Follow that?
RestlessStyle.com will "offer the latest runway trends, fresh beauty tips and red carpet coverage" as well as video, polls, photo galleries and horoscopes.
Hold on, there's more.
The digital content "will run concurrently with the upcoming 'Y&R' storylines relating to Restless Style—the print magazine run by Nicholas and Phyllis Newman (Joshua Morrow and Michelle Stafford) and Jack and Sharon Abbott (Peter Bergman and Sharon Case)."
To do this, Y&R has hired a real magazine employees: George Kotsiopoulos—former fashion associate at the New York Times Magazine and current style director at C magazine—to oversee the site's fashion and style direction (Kotsiopoulos will also appear on the CBS daytime drama); and Peter McQuaid, a contributor for InStyle and the Los Angeles Times, to serve as the site's editor.
Says Josh Griffin, the show's executive producer: "We love being able to offer this innovative extension of the show not only to our loyal viewers but to anyone who loves to follow fashion."
Go ahead. Laugh now, but who knows? Maybe this is the future of magazines.
Meet the Author
---