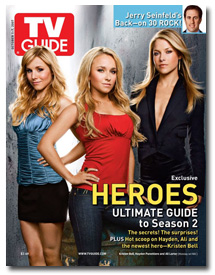 RELATED POST: New Owner: TV Guide $1 Sale 'Needs to be Taken into Perspective'
Apparently Reed Elsevier isn't the only publisher willing to pony up millions of dollars in order for someone to purchase its magazines.
TV Guide owner Macrovision earlier this week said it agreed to sell the print edition of TV Guide to Beverly Hills, California-based investment firm OpenGate Capital. Terms were not disclosed at the time of the announcement, but according to SEC filings, OpenGate purchased the magazine for $1, less than half the cost of a single copy of the magazine.
As part of the financial terms, Macrovision will loan OpenGate up to $9.5 million at 3 percent interest. For now, Macrovision will keep TVGuide.com.
According to the most recent Publishers Information Bureau figures, ad revenue at TV Guide was mostly flat through the third quarter at $154.7 million, up 2.4 percent. Ad pages, however, were down 7 percent in comparison to the same period last year.
In its announcement, Macrovision identified the print magazine as business "not aligned with its core corporate strategy." The company said its primary goal for the product is to consolidate "key technology assets, including the interactive program guides."
In April, Gemstar-TV Guide stockholders approved the company's merger with Macrovision Corporation, the Santa Clara, California-based digital software solutions firm that agreed last December to acquire Gemstar for $2.8 billion in cash and stock.