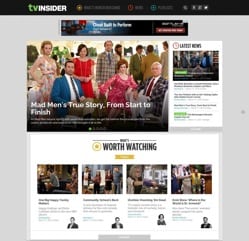 TVGM LLC, parent company of TV Guide Magazine, has moved its TVInsider.com site status from beta to fully live this week. The transition means that its marketing and cross-promotional operations are now in full swing, in alignment with the user-facing product that launched back in January.
"With the launch of TV Insider, our new and ever-expanding digital home for What's Worth Watching, TVGM can develop fully as a multi-platform media company," says David J. Fishman, CEO of TVGM in a statement. "TV Insider is a great and logical addition to our growing suite of TV-powered media properties. As we enter this exciting new Golden Age of high-quality television, all of us at TVGM are committed to best serving our growing audience of engaged and influential television enthusiasts—and the marketers who seek to reach them in a meaningful way."
The site looks to be a comprehensive news and information site for the avid TV viewer. It's also service oriented, with expert recommendations and reviews on television programming, as well as a proprietary algorithm that matches up users with programming they may like.
So far the site has exceeded its projected benchmarks of reaching 285,000 unique visits. Pageviews have passed the 900,000 mark and unique visits are closing in on 500,000. And the site's user demographic is primarily comprised of the highly attractive 25-34-years-old segment.