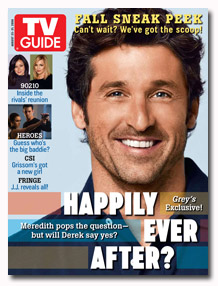 Macrovision Monday announced the sale of TV Guide magazine to Beverly Hills, California-based investment firm OpenGate Capital. Terms of the deal were not disclosed.
Macrovision says it identified TV Guide magazine as a business "not aligned with its core corporate strategy." Macrovision will keep TVGuide.com.
"A primary goal of the Gemstar-TV Guide acquisition was the consolidation of key technology assets, including the interactive program guides, connected services and device connectivity needed to provide consumers with a uniquely simple digital home entertainment experience," Macrovision president and CEO Fred Amoroso said in a statement. "The TV Guide magazine divestiture marks a significant milestone towards achieving this goal as the streamlined business model improves the company's ability to execute its strategic plan."
In April, Gemstar-TV Guide stockholders approved the company's merger with Macrovision Corporation, the Santa Clara, California-based digital software solutions firm that agreed last December to acquire Gemstar for $2.8 billion in cash and stock.
During the first half, ad pages were down 1.4 percent over the same period last year, according to Publishers Information Bureau figures. Estimated ad revenue was $103.1 million, up 9 percent
The deal is expected to close December 1.