Turning Social Partnerships Into Profit

Facebook and LinkedIn can put you on the map but can they make you money?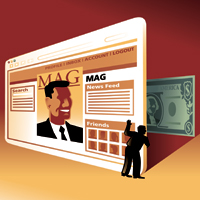 Just as video was in 2007, social media is the "killer app" for magazine publishers in 2008 and teaming up with an existing network offers a huge audience without much cost or effort (Facebook's and YouTube's outreach to magazine publishers earned them a spot on this year's Folio: 40). More than 40 member magazines of the Magazine Publishers of America keep profiles on MySpace and Facebook and many smaller publishers are jumping into the game as well. On the b-to-b side, LinkedIn is the new darling, with publishers ranging from startup DesignWorld to McGraw-Hill giant BusinessWeek creating communities.
But are these efforts relegated to branding or is there an opportunity to make money on it? EMarketer predicts advertising on social sites will increase 75 percent to $2.1 billion in 2008. However, publishers would most likely be required to split a hefty share with host networks and there are some doubts about how receptive network members are to advertising in that context (BusinessWeek itself ran an article earlier this year titled, "Generation MySpace is Getting Fed Up," that quoted the CEO of ad network Specific Media calling social networks "the most overhyped scenario in online advertising.")
Hearst has created a social presence on the major social media networks for many of its titles, including Seventeen and CosmoGirl. "They have a lot more users on their site than we have on ours, it doesn't make sense to rebuild a social network with Cosmo or Seventeen," says Chris Johnson, vice president of content and business development at Hearst Digital. "It makes more sense to take our content to where the users are."
Hearst has generated "thousands to tens of thousands of users" across its social media programs, which range from a basic CosmoGirl page on Facebook to an ambitious Seventeen video program on MySpace called Freshman 15 that features 15 young women sharing videos of their experiences during their first year in college.
Agreements vary. Creating Facebook pages is free but the MySpace Freshman 15 program includes cross-promotion and in-book placement for MySpace. "This is more complex stuff than we would be able to sign up for as a user of MySpace," says Johnson.
At this point, Hearst hasn't done much with advertisers across its social sites. "We're exploring the opportunities but it would have to be under the right circumstances," says Johnson. "There would have to be a value-exchange in place with the network. They want to sell advertising and we want to sell advertising, so we have to figure out a way to do it together and share in the revenue."
Hearst is experimenting with multiple models, including advertising in widgets. At thedailygreen.com, an ad for HDTV in the environmental news section goes with a widget that a reader can place in their own Facebook page, taking the advertising with them. Another widget is offered with Seventeen's daily giveaway. The experiments show promise but keep in mind that the cost of building a widget can range from $5,000 to more than $100,000. "Minimally, the cost to get in the game is a few thousand dollars," says Johnson.
The B-to-B Connection
While Inc.com is building its own network through IncBizNet, BusinessWeek.com has teamed with business professional network LinkedIn. Businessweek.com and Capital IQ provide information for LinkedIn's company profile section, including hard-to-get private company data. "The first part of the partnership is having a widget on every story page which immediately tells you how many people at the company are connected to the core company in the story through LinkedIn," says BusinessWeek.com editor-in-chief John Byrne. "The second piece, which is much more promising for us in terms of traffic, is having links on every company page to our site. We're the exclusive provider on the company page. Some pages are still being rolled out, and more importantly, will be made public in a few weeks to get into the Google algorithm."
Meanwhile, b-to-b startup DesignWorld created its own community on LinkedIn. Prospective members submit a profile and the service is free to the magazine. "The 'how' is idiot-proof," says co-founder Scott McCafferty. "The why—we wanted to see what would happen, if there was a reader affinity, to see if people responded. Lo and behold they did."
Right now, McCafferty doesn't see this as a monetization opportunity. "But we do get three big things: One, it gives us a focus group and mirrors the exact replica of what a BPA statement would say," says McCafferty. "We're not audited yet but I can show them profiles of who are reader is. The other thing is we're looking at setting up an editorial advisory board and this is an editorial advisory board on steroids. We can go in and send instant message guys to get instant feedback."
The community is also being used as a sounding board for new products. "We will use it to identify beta users and preview new products for those beta users," says McCafferty. The publisher is in the process of developing a career board and can shoot over the a mock-up of the site.
McCafferty says the community has received numerous requests from recruiters but they aren't allowed in—yet. "Once we got over 1,000 members—if we had 10 or 15 marketers, I don't think that would be a problem," he adds. "It would be a problem if you had 15 marketers waiting on four engineers. We want to show the affinity toward the magazine. You have to embrace all these things and you're not going to make money on all of them."
Determining if that's worth it is the biggest challenge for publishers right now. "We can build widgets, we can program Facebook pages, we can be a big presence on MySpace but that doesn't necessarily mean we're going to get a lot of traffic out of it," says Johnson. "As publishers, we have to figure out how to do this in a way that's valuable to us. I've got a million ideas for new applications and I want to launch more widgets. These are things we can do relatively quickly but how do I ensure that I'll get something out of it and I'm not just syndicating my content and my experiences into a social network and have my site editors spend their time on social networks all day? We're all in the early stages but we need to figure out how to sell advertising around that and drive traffic back to our sites or figure out if we're able to charge a subscription fee."
SIDEBAR: More Funding for Publish2
Meet the Author
---