According to a 2009 Forrester Research study called "The Social Technographics of Business Buyers," b-to-b buyers and decision makers are among the most active groups in social media. However, monetizing around that participation has been a struggle for b-to-b publishers.
Still, turning social media into a revenue-generating business is a priority for many publishers in 2010. As Cygnus Business Media looks to build value after emerging from its Chapter 11 restructuring last year, one of its top priorities will be harnessing what CEO John French calls "social business media."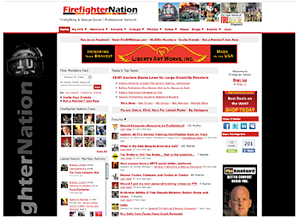 "Social media is the buzz word du jour but just like how everyone talked about Webinars and e-newsletters a couple years ago, everybody finds a new horse to ride," he says. "We think social business media is as important as those previous developments but it's a lot bigger. Business-to-business is a form of social media. The difference was in years past, it was done in print. We've gone from magazines delivering push content to getting the people out there to get together and talk."
The next step is figuring out how to monetize social media around communities such as Firehouse.com, Officer.com and EMSUnited.com. As part of the relaunch of its brand, Demers Ambulances wanted to create a social business media "buzz" and purchased an integrated package in order to reach a targeted group of EMS professionals that included ads, e-blasts, blogs booth space, podcasts and Webcasts on EMS Garage.
"Getting manufacturers involved is one of the things we're working on now, and we don't have the perfect answer," says French. "We're trying to figure out the next best step. Our experience has been, it's OK for a reader to see advertising from a manufacturer, they know they're getting the magazine for nothing. The precedent has already been set. If there is an ad message in an online community it's going to be OK, users realize without this the medium wouldn't exist. Take the 50,000 people who got a magazine for the last 20 years. They didn't know at the time but they were the beginnings of the community."
Geographic and Demographic Targeting
Meanwhile, former Cygnus vice president of interactive Dave Iannone, founder of Web firm Go Forward Media and the architect of Cygnus' Firehouse.com, is working toward monetizing a new set of social media sites. In 2009, Elsevier Public Safety acquired Iannone's Firefighternation.com and brought Go Forward Media in to develop social media sites around JEMS (the Journal of Emergency Medical Services) and Law Officer. Today, JemsConnect has more than 10,000 members while LawOfficer Connect has more than 5,000 members.
But the real push for the Elsevier social networks is going beyond their proprietary Ning platforms to wider social networks such as Facebook, where all three brands are approaching or exceeding more than 50,000 fans, according to Iannone. "One big story can drive traffic spikes of more than 50 percent," he says. "JEMS recently had a story about a paramedic who died on the scene and it had more than one thousand shares on Facebook. That translates into tens of thousands of page-views. Our strategy is not to rely on any one single platform. We have the Ning-based Web site for the hardcore users and we have Facebook where people do surprising things, like link to a discussion on Firefighternation.com to read it, then come back to Facebook to discuss it. We can get more comments on Facebook about a discussion that's actually on FirefighterNation.com. The days of one Web portal are over."
In terms of monetization, Elsevier and Go Forward sell fan pages to marketers for hundreds of dollars per month. "Once you've got them engaged with their customers and potential customers, they fully realize the full power of social media," says Iannone.
The three Elsevier sites are starting to offer geographically and demographically targeted advertising on a CPM basis and in 2010 will generate revenue in the seven figures, according to Iannone. "We're looking at sizeable growth annually where we can be up there with the big boys at not much cost," he adds. "Many consumer magazines have figured this out but b-to-b hasn't been really taking advantage of social media. This stuff changes so quickly-if you thought the Web changed quickly, this is going to be even more rapid. If you haven't caught up, you're going to be in worse shape than you were with the Web 10 years ago."
Using Social Media To Take the Agency Role
Framingham, Massachusetts-based tech publisher IDG Communications is using social media to provide real-time market intelligence for its clients. In an expansion of its Strategic Marketing Services group, IDG has partnered with Networked Insights to launch IDG Social Scout—a service that uses proprietary analytics to track conversations around topics and brands and measures sentiment/engagement over time. Tapping Networked Insights' proprietary "listening platform," the IDG Social Scout service can track social conversations online in regard to specific topics chosen by IDG's marketing clients, providing real-time data on how well those terms are resonating.
After determining which topics its clients are most interested in learning about, IDG's research team develops a community of sites based on conversational engagement and volume that the company will track on an ongoing basis. IDG provide clients with a benchmark report that includes their brand and three competitors. From there, it provides weekly metrics reports that show change in conversation, sentiment and key discussions.
While still small in terms of overall revenue, social media services are becoming a significant revenue stream and IDG has struck seven figure deals around it, according to CEO Bob Carrigan. "Social media services have been tremendously successful from the user point of view but also the sponsorship point of view," he says. "It's not just great for revenue but every marketer wants to talk to us about this."
SIDEBAR
Using Social Media to Market Face-to-Face
Real Simple's 10th anniversary events get a boost from Facebook and Twitter.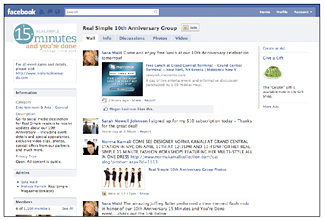 Real Simple, Time Inc.'s monthly women's magazine touting quick-and-easy design, recipe and lifestyle tips, launched a dual-city 10th anniversary tour of the brand in Chicago and New York in April.
The events, bolstered by a raft of sponsor partners, were supported by a significant social media outreach and participation campaign. "We wanted to have another outlet where we could let our users know about it and give them updated information, plus let everyone across the country feel involved," says executive editor Kathleen Murray Harris.
A separate Facebook group was created to divert the event-specific postings to its own forum—"We didn't want to overwhelm the users on the primary page," says Murray Harris—which collected more than 1,000 fans. From there, Real Simple and associated bloggers and a team of about a dozen tweeters were recruited for coverage.
The #RS10 hashtag attained trending topic status "for about 15 minutes," says Murray Harris, who estimates the social media coverage and almost 400 blog posts reached about 300,000 people, including 4,500 at the Chicago event.
Those numbers translate into real impressions for advertisers and sponsors at the event, says Murray Harris, who added that the exposure eventually leads to actual ad buys and continued sponsor deals.
A lesson the team learned at the Chicago event was to dial back the tweets. That's an easy trap to make for location-based Twitter coverage—an enthusiastic stream of tweets from an event the majority of followers aren't at can get overwhelming. "The initial feedback we got was that because we had people tweeting so often people that followed Real Simple asked us to back off a bit," says Murray Harris.