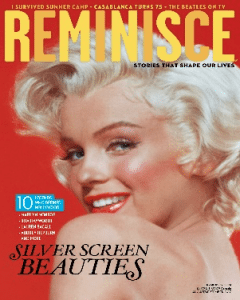 Trusted Media Brands, Inc. announced its newest expansion earlier this week— the distribution of magazine Reminisce to newsstands across the country.
The bi-monthly magazine, slated to hit the stands in early August, launched over 25 years ago, and features content focused on previous eras.
Reminisce editor Linda Kast hopes the expansion reaches multiple generations of readers with an interest in life during former eras, and feels the shift to newsstands will help get readers involved.
"The DNA of Reminisce is and always will be primarily made up of reader-submitted stories and photos," Kast tells Folio:. "A successful expansion on newsstands will allow us to provide our readers with more of that content."
According to the company, the magazine, published six times a year, reaches an audience with a rate base of 725,000 and a multi-channel audience of 2.8 million. Kast explained that through heading to newsstands, the Reminisce team seeks to reach a new audience and maximize exposure.
"We know our audience are big fans of the magazine," says Kast. "We also know that there are lots of folks out there, especially the younger baby boomers, who haven't heard about us. We see the newsstand as our best opportunity to get in front of those people."
With the expansion of Reminisce, Kast says the magazine plans to continue to work on its digital strategy through working with Reader's Digest and on various social media platforms.
"Our digital footprint is interwoven with the Readers' Digest website, RD.com, which allows us to provide our brand of content to a much broader audience," Kast tells Folio:. In addition, we engage users with our social media presence on a variety of platforms."
The first issue to hit newsstands will be sold for a price per issue of $4.99 in the U.S. and $5.99 in Canada, with the August/September cover featuring Marilyn Monroe. Inside, the pages will include a Hollywood Glamour photo package of famous women from previous eras such as Audrey Hepburn, Lauren Bacall, Carole Lombard and more, according to the company.