Travel + Leisure Expands Brand into Southeast Asia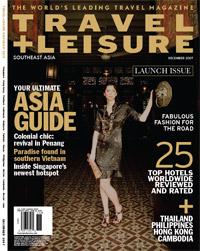 American Express Publishing announced Tuesday its latest international edition of Travel + Leisure, this time in Southeast Asia. Set to debut with the December 2007 issue, the new edition will be published in Bangkok, Thailand, and will be the magazine's sixth international edition. 
"A burgeoning market is emerging in Southeast Asia with smart and sophisticated consumers who want an editorial product about up-and-coming luxury travel destinations," American Express Publishing CEO Ed Kelly said in a statement. 
The Southeast Asia edition of Travel + Leisure will be distributed in 12 territories throughout the region including Cambodia, Hong Kong, Indonesia and Vietnam. The English-language version will be published monthly and will have an initial distribution of 50,000. 
Heading up the Travel + Leisure Southeast Asia editorial team will be editor Matt Leppard, who joins the magazine from Compass, the magazine for the Pacific Asia Travel Association. Nancy Novogrod, Travel + Leisure U.S. editor-in-chief and American Express Publishing senior vice president, will provide editorial direction. 
Travel + Lesiure joins a list of a number of other U.S. magazines that have recently made the push into the Southeast Asian market. In August, BusinessWeek launched a Thailand edition and Hearst launched Town & Country Phillippines. Also in August, Meredith Corp. announced plans to publish Fitness Indosnesia and More Indonesia starting in early 2008. Other international editions of Travel + Leisure are published in South Asia, Mexico, Australia and China.
Meet the Author
---