Travel + Leisure EIC's 20-Year Anniversary Prompts Ad-Page Spike

Novogrod's career is a testament to the importance of relationship building.
October is a big month for American Express's Travel + Leisure. Actually, 2013 is shaping up to be a big year for the luxury travel title.
Sure, ad pages are up 28 percent in October year-over-year. And, yes, the aggregate count is up 7 percent compared to 2012–impressive figures when considering how many publishers are looking at red ink this year. But the real cause for celebration in October, and 2013 for that matter, is that editor-in-chief Nancy Novogrod is celebrating her 20th anniversary at the helm.
20 years is a big milestone, and one that's ordinarily recognized by employers and colleagues. However, the celebration and recognition for Nancy at American Express has been anything but ordinary.
Earlier this year, Travel + Leisure's publisher, Jay Meyer, knew he wanted to do something special to honor an individual that he believed defined the brand. What he introduced was an almost yearlong celebration, one that is capped off in October's issue with a 20-page feature tribute and 18 customized ads from the brand's loyal travel partners.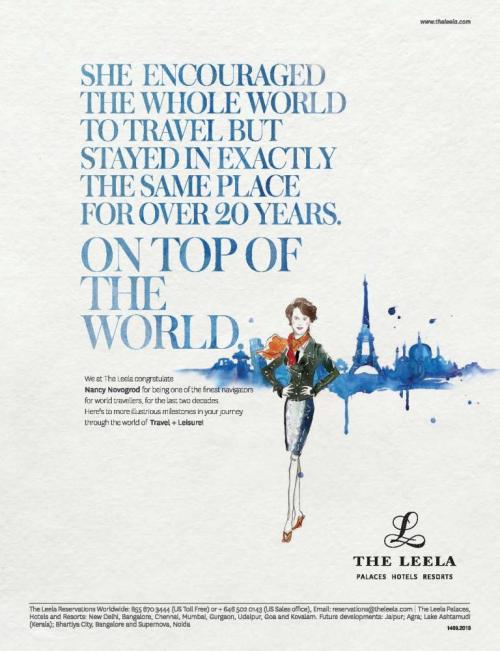 "I'm happy to say it was my idea," Meyer says. He admits that it didn't take long for him to understand what Novogrod meant to the brand and, to the travel industry as a whole, until he had the opportunity to attend a trade show with her in France.
"Walking into that show with Nancy was very Hollywood-like," he says. "People were coming out of their spaces to say hello, and ask her to sit down or if she'd like some coffee or had time to chat. She introduced me to probably 20 people in less than 5 minutes, it was really a special moment and very eye-opening in terms of what these travel partners think of her, what she does and how she supports the travel industry."
Meyer says the pitch to advertisers wasn't a hard sell, "The general response was 'yes, of course we want to celebrate Nancy.'"
And likewise, the concept was well received in the C-suite. "As we made our way through producing these custom ads, I had a catch-up meeting with our CEO, and he–in a way I hadn't seen in a while–was blown away, primarily because the custom creative that you see within the section was just so heartfelt," Meyer says. "And you could see the time, the energy and the thought that went into the messaging."
Generating excitement for advertisers on a paper medium has been tricky lately, to say the least. But it seems American Express has tapped into a something many have lost sight of–the importance of relationship building. Not only that, but it's also a reminder of how editorial can impact business.
Transactions have changed in every industry. And more and more the relationship between buyers and sellers is being left on autopilot in order to promote efficiencies. While that isn't necessarily a bad thing, the problem is that sometimes it's human exchange and human voice that pushes a buyer through the funnel and sustains business.
The clients who bought ad space in October's Travel + Leisure weren't buying space in a magazine; they were buying an opportunity to thank an individual they developed a quality relationship with over two decades.
Obviously Novogrod's situation is unique, and not something very many publishers can leverage themselves (at least not overnight). Still, there is an important lesson at play here–people are your most valuable asset.
Image: courtesy of American Express Publishing
Meet the Author
---