Traffic Boosting Options

A look at two services designed to increase traffic, clickthroughs and leads.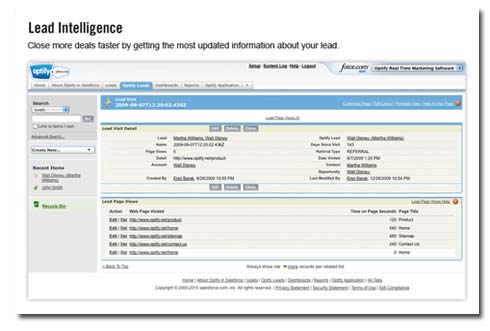 Most publishers are leveraging free tools and in-house savvy to boost traffic and clickthroughs. However, doing it on your own always includes a bit of guesswork and voodoo, and some new enterprise services are emerging to help formalize the process.
Optify is "hosted real time marketing software" designed to bolster uncertain SEO and social media efforts and ultimately drive more leads. The service offers a series of online dashboards that enable publishers to track progress of certain functions, from SEO to social media to lead scoring and reporting and analytics. Multiple sites within a publisher's portfolio can be managed from one account.
Lifescript is a site dedicated to women's health with about 4.5 million uniques and 40 million page views per month that started using Optify in February. "We were using lots of free tools for organic search but felt that we needed to make some sort of centralized focus for our SEO campaigns," says Lifescript SEO and social media director John Schulenburg.
Using Optify, Lifescript has created custom keyword lists. "This helped us identify keywords we should be using, keywords that will yield lots of traffic and keywords that were attainable—not every one is feasible at this point because there's so much competition," says Schulenberg. "This helps you find that happy medium between what's profitable and what's possible."
Lifescript is able to keep track of rankings as well as history of its keywords over time on several different search engines. Schulenburg says Optify is working on expanding its stable of search competition tools that analyze competitive SEO efforts.
Since it began using Optify, Lifescript has identified 15 keywords and keyword phrases that it didn't register for within the top 100 search results. Today, Lifescript is in the top 50 search results for 12 of those 15 keywords. "There is a lot of work involved, especially when there are so many keywords to go after," says Schulenberg.
Bolstering Content as Traffic Driver
Meanwhile, a service called Outbrain offers publishers and bloggers a 50,000-member network of content sites that provide recommended links to readers across the network. The network ranges from individual blogs up to mass market publishers such as Time, Hearst, Conde Nast and USA Today.
Free and paid versions of the service are available using the Outbrain Widget. Publishers typically offer Outbrain access to their RSS feed and Outbrain will make recommendations to the reader on similar stories within that publisher's site as well as other sites within the network.
Publishers using the widget typically see a 5 to 10 percent increase in page views, according to co-founder Yaron Galai.
With paid links, publishers only pay for those readers that click on their links, Galai adds. Pricing can range from $0.06 per click to $0.60 per click, with most publishers seeing 3 to 3.5 page views per click, according to Galai. "With search, it not really a reader you're getting," he adds. "With us, it is. Someone who is reading, say, National Geographic, may see an interesting link and clicks over to you while they're in a reading frame of mind."
Meet the Author
---