Trade Show Industry Posts Biggest Gain In 2 Years

Analysts expect momentum to continue.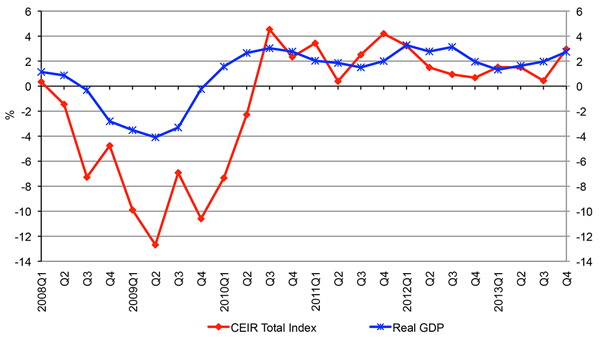 The trade show industry closed 2013 on an upswing after a year of sustained, but marginal, growth.
The business grew 3.0 percent in the fourth quarter and 1.0 percent for the year, according to the Center for Exhibition Industry Research. CEIR measures overall industry performance using an aggregate formula that accounts for net square footage, exhibitors, attendance and revenue.
The gains marked the 14th-consecutive quarter of growth for trade shows and the best three-month period since Q1 of 2012.
"We are confident in the continued growth and progress of the industry," says CEIR's economist Allen Shaw. "The exhibition industry has survived and emerged from the Great Recession and we are confident that the upswing will continue."
The 1.0-percent growth missed analyst projections by just 0.1 percent, Shaw notes. Earlier reports say the development will pick up through the next two years, with forecasts of 2.1- and 3.2-percent improvement in 2014 and 2015, respectively.
See also: A Trade Show Industry Outlook for 2013 
Attendance—a leading indicator—supports those estimates. Professional attendance increased 5.8 percent in Q4, the biggest jump in that category since 2007. Revenue (up 3.6 percent) and exhibitors (up 3.0 percent) also saw improvement, while net square footage declined less than 1 percent.
By sector, machinery and finished business inputs shows enjoyed the strongest performance last year, up 6.9 percent by CEIR's aggregate measure. Food (5.0 percent), sporting goods, travel and amusement (2.8) and business services (2.6) also had gains. Conversely, government events suffered a 6.1-percent loss at the hands of sequestration and budget reforms.
"This was not surprising since the industry was negatively affected by government budget cuts impacting trade shows," says Brian Casey, CEIR's president and CEO.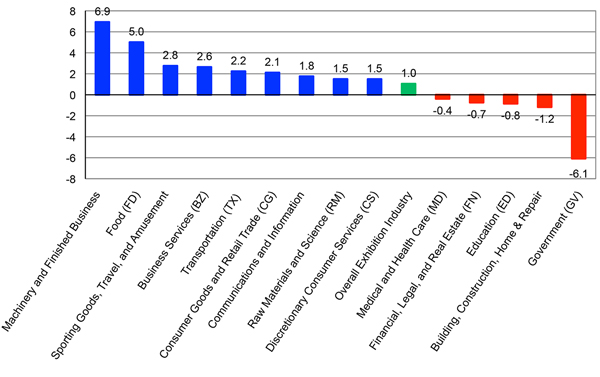 Meet the Author
---