Trade Mag Strips Broadcaster of Award

Radio & Records rescinds Bob Grant's achievement award over racial remarks.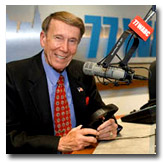 Nielsen's Radio & Records magazine has decided to withdraw its lifetime achievement award for controversial radio talk show host Bob Grant over racial remarks he made a decade ago.
An activist reportedly sent several e-mails to Radio & Records, alerting its staff to certain racial remarks the combative radio host has made over his career. Grant, who is 78, was fired from WABC in 1996 for a remark that then-commerce secretary Ron Brown was the lone survivor of a plane crash in Bosnia, adding "because at heart, I'm a pessimist." Brown, an African American, was later found dead.
On Wednesday, the magazine posted this statement on its Web site:
Upon further review and consideration of Bob Grant's complete body of work, Radio & Records has withdrawn its decision to present the 2008 News/Talk/Sports Lifetime Industry Achievement Award to Mr. Grant. R&R is sensitive to the diversity of our community and does not want the presentation of an award to Mr. Grant to imply our endorsement of past comments by him that contradict our values and the respect we have for all members of our community.
Since rescinding the award—which was set to be handed out in March at a ceremony in Washington—Grant has voiced his disappointment over the magazine's decision. "What bothers me more than anything else is that one lone kook with an e-mail can have an organization like this fold like a cheap camera," Grant said on Fox News' Hannity & Colmes on Thursday. During the program, host Sean Hannity informed Grant that another trade title, Talkers magazine, will honor Grant with a lifetime achievement award.
Radio pundit Rush Limbaugh also spoke in Grant's defense. "I think it's extremely cowardly that this Radio & Records bunch can rescind an award they had bestowed simply because of one letter from a malcontent," Limbaugh said during his program on Friday. "We're losing to political correctness. Grant deserves a lifetime achievement award from a whole lot of people, not just a trade magazine."
Meet the Author
---