Toyin Awesu

publisher and editor-in-chief | AvenueReport.com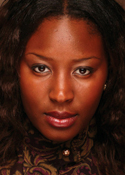 In April 2007, seven months before launching the print version of Avenue Report—a fashion and business magazine for African-American men—editor and publisher Toyin Awesu launched the magazine's Web site, AvenueReport.com.
Today, market realities have forced Avenue Report to suspend the print edition, and the Web site is again the primary product. "We're looking to build our international presence and the quickest and most effective way to do that is online," says Awesu.
AvenueReport.com is currently undergoing a relaunch that will add video and MP3 audio clips in an effort to "make the site as interactive as possible," says Awesu.  
A Web relaunch was scheduled for the last week in January. To build audience, the focus will be on cross-linking. "A lot of publishers forget to do the grassroots thing, like  link-share with other Web sites and blogs," she says. "We need to try to be as creative as possible with our content, whether it's text or streaming video. We need to be able to package all that together online without overloading our audience."
Awesu is also upgrading the content management system for AvenueReport.com and looking ahead to the next Web evolution. "Web 2.0 tools are great but they need to be managed and marketed well," she says. "A lot of publishers just throw Web 2.0 on their site. We're looking ahead to Web 4.0 and what it will be and how we can use it."
Stopping the print edition is saving Awesu about $40,000 (although also eliminating one of her key revenue streams for now). "When developing the CMS, if you cross-barter, it could be as low as $2,000 or it could be as high as $10,000," she says. "With Web hosting, it could be $40 per month or it could be $100 per month.
As a small publisher, Awesu is leveraging online ad networks to build advertsing revenue on the site. "There is still a lot of shifting with advertisers," she says. "People are looking for things that can be activated in-book, online, in events. We want to offer that 360-degree package."
Where They Will Grow: International audience.
Where They Will Save: Going digital-only for now will save about $40,000.
 
Quote: "We're looking ahead to Web 4.0 and what it will be and how we can use it."
MAIN PAGE
Todd Matherne CEO | Renaissance Publishing
Cameron Brown president | King Fish Media
Deborah Esayian co-president | Emmis Interactive
Efrem "Skip" Zimbalist CEO | Active Interest Media
Justin Smith president | The Atlantic
Steven Kotok general manager | The Week
Len Burnett co-founder, co-CEO | Uptown
Risa Crandall VP | Scholastic Parents Media
Janet Libert editor and publisher | Executive Travel SkyGuide
Mike Domke founder and president | Milo Media
Jim Prevor CEO | Phoenix Media Network
Kent Brownridge general manager | OK!
Samir Arora CEO | Glam Media
John Sateja EVP | Consumer's Union
Jim Vick staff director/publisher | IEEE Spectrum
Pete May president | Greener World Media
Barb Newton president | Sunset Publishing
Paul Mackler | CEO | HMP Communications Holdings
Harry Sachinis | president | McGraw-Hill Business Information
Meet the Author
---