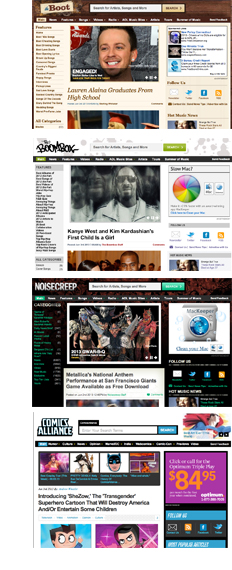 Radio, live event and digital media company Townsquare Media is acquiring The Boot, The BoomBox, NoiseCreep and comics enthusiast site ComicsAlliance from AOL in what appears to be a last-minute save for the brands.
In April TechCrunch and Billboard reported the AOL Music sites were on the verge of being shut down, with many of the staff let go. Terms of the deal were not released, but some staff of AOL Music and ComicsAlliance will be joining Townsquare Media going forward.
AOL has recently been divesting some of its smaller niche sites—in mid-May Breaking Media announced that it closed on a deal to buy AOL Defense, AOL Energy and AOL Gov.
"We completed the transaction and have spent the past several months working with their fantastic editorial staffs to develop the sites on our platform" said John Lerner, CEO of Breaking Media at the time of the deal.  "We were attracted by the quality of editorial teams and the fact that these sites have been reaching insiders in their markets for almost two years. We also feel the that the Defense, Energy and Government sectors fit well with our legal and finance verticals."
The Townsquare deal adds another 3.5 million visitors per comScore numbers, reports AllThings D. The company already has 250 companion websites for its radio stations as well as a network of owned and operated sites across the indie, hip hop, rock and country genres, claiming 60 million unique monthly visitors.