Top July Mags: Food Network Has Its Biggest Issue Ever

July ad pages take a step back but the top five titles are booming.
Magazines' July advertising pages seem to be taking a droopy tumble (cumulatively -1.07% in 2011), after six months of percentage gains, according to minonline. However, the good news is that our top 5 in July exceeds their publishers' expectations. Three of which are repeats from June (Time Inc.'s PeopleStyleWatch, Affinity's Trailer Life and Competitor Group's Competitor). Hearst Magazines' Food Network makes its top 5 debut with the biggest issue (115.18 ad pages) in its two-year history, and Wenner Media's Men's Journal republished in July after a year's hiatus, resulting in a January-July 2011-vs.-2010 differential of +24.43%.
Of the 151 monthly magazines that min tracks, 71 showed ad-page gains and 80 were down. The year-to-date differential is +1.19%.
Here is min's top 5 chart based on highest ad-page gains and their profiles: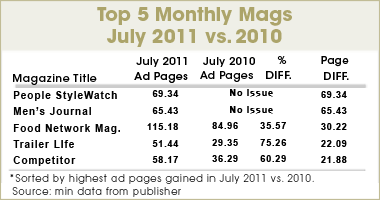 For a full look at the top five magazines, click here.
Meet the Author
---