Top Five Mags First Half: Sneakers, Yachts and Hiking Boots

Min boxscores show a 1.45 percent increase in the first half of 2011.
Some new magazine faces have shown up in min's top 5 ad-page charts (see below) for June and for the first half (January-June 2011 vs. 2010). They are sun-bleached, health-minded, sports and outdoor enthusiast in Competitor Group's Competitor, Source Interlink's Power & Motoryacht, Mariah Media Inc.'s Outside and Affinity's Trailer Life. Obvious advertisers were in the outdoor equipment, footwear, automotive, travel and luxury categories.
Rankings are based on min's boxscores (premium), which found that the 152 tracked titles were cumulatively +1.45% in the first half.
Here are the "top 5" monthly charts for June and first half based on highest percentage ad-page gains and their profiles: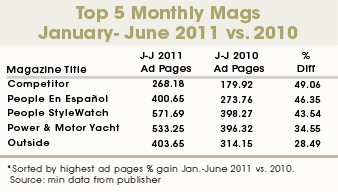 For the remainder of the story, turn here.
Meet the Author
---