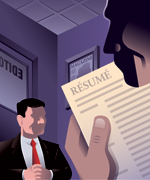 It may be difficult today to imagine room at a publisher for new or emerging job titles. In a recent study conducted by ABM, 73 percent of b-to-b member company respondents say they've reduced or frozen hiring. Yet as we perpetually note, the publisher that manages to drive new business during a down economy will be much more likely to emerge the market leader on the other end. Because of that, publishers are looking for talent that can play a leadership role in those new initiatives, and more often than not, these positions are brand new to the organization.
We've interviewed several publishers to get a sense of what these jobs are and where in the company they tend to fall. In some cases, titles have not been defined yet, but clearly every new position is deeply influenced by the multiplatform direction magazine publishers are taking.

Director, Audience Recruitment
Salary Range: N/A, senior-level, VP position
As publishers refine their ability to better segment and target their customers, traditional "batch and blast" marketing strategies are slowly fading away. But the ongoing recruitment of new customers requires that same laser focus. Consequently, Everything Channel, a division of UBM, hired a director of audience recruitment whose sole responsibility is finding and qualifying new customers. And now that print is only 10 percent of the group's revenues, qualifying new customers no longer follows BPA-style conventions. "We have a team of analysts that figure out what the universe looks like in their vertical, how many companies it has, and who we need to match to the products we have. It's a very different role and not as focused on BPA requirements," says Kate Spellman, senior vice president, marketing and business strategy at Everything Channel.

Director, International Conferences
Salary Range: Starts at $100,000
Many publishers are turning to international expansion as both an opportunity to leverage new business and seek relief from a beleaguered U.S. economy. Licensing print brands has been one method, but events are proving just as viable. "We are looking for people who can run events for us in far-flung places," says Carol Evans, president of Bonnier Corp.'s Working Mother Media Group. "We just came back from India, Brazil, South Africa and China. We had to build an in-house department for the global execution of events."
Evans says they've tried outsourcing the job, but prefers someone who can do it in-house. The job, says Evans, requires the typical event expertise as well as a facility with languages and international protocol. "Honestly, a lot of companies are looking at this because their customers are asking them to be global because they are," she says.

Marketing Director
Salary Range: $110-$135,000
This title might sound traditional, but the marketing and business development practices now required are far from the usual, and this title is not relegated to a magazine division or group. Tasked with integrated programs coupled with research and data to provide accountability, the position requires a strategic level of thinking about deliverables. "People want fresh ideas," says Evans. "They want you to not just generate, but execute. It goes way beyond a lunch and learn."
And going beyond "lunch and learn" means non-advertising-based programs. "Customers really want programs where they can influence a customer with a product experience," adds Evans. In this new marketing role, that requires combining digital products with an event along with some research thrown in.
Ironically, all the attention on integrated programs, says Evans, has managed to generate more advertising revenues. "The creation of non-advertising revenue has created capabilities that come back into creating integrated programs to generate ad revenues. And this is what people want. They might have asked an agency in the past, but now they're asking a media company to deliver the whole thing—research, events, advertising and the Web," she adds.

Associate Web Site Producer ("Search Warrior")
Salary Range: $62,000 (per Salary.com)
Publishers have become adept at creating and repurposing digital content—editors generally understand the nuances of writing for the Web. Yet what has emerged is a position that can oversee the traffic-generating implications of all that content, something editors know a little about, but not all. "It's pretty clear that we know how to create content for human beings; it's less clear that we know how to create content for bots," says CNNMoney.com editor-in-chief Chris Peacock.
The associate Web producer, casually called the "search warrior" at CNNMoney.com, helps build editorial products by looking at them through the lens of a search bot. As content is produced—articles, video, slide shows, and so on—the associate Web producer makes sure it's all properly search optimized.

Product Director, Web
Salary Range: $144,000 (per Salary.com)
The Web product director is the link between editorial, business, design and development on the digital side. In other words, every Web site has a strategic roadmap and each component, whether content, sales, design or technology, plays a role in that strategy. The product director makes sure those roles in aggregate dovetail with that roadmap.
"It requires a deep focus on journalism, plus an engagement of all these other factors too," says Peacock. "When we were a smaller site we had a project manager. When we became bigger, we learned that we really needed a product director—someone to work between edit, design, engineering and the business side to make sure all the components are brought together according to our strategy. This person manages execution, which crosses all of those lines."
Director, Technology Innovation
Salary Range: Starts at $75,000
Technology is expensive and extremely difficult to implement. Having a person on board who not only understands the specifications needed to develop back-end technology, but also what makes the most sense for a particular environment, can ease the pain.
For many publishers, this position would have been invaluable five years ago when they were building their first huge, customized and ultimately unscaleable CMS systems. "They develop the kind of rich spec-level documentation that gets handed off to IT (a systems analyst job), but the typical systems analyst just gets what you want and translates it for the programmer," says Alec Dann, general manager of business media online at Hanley Wood. "A technology innovator can tell you what you want and also knows the best way to tackle it. Are there technologies freely available on the Web instead of developing it ourselves?"
The technology innovator is tasked with increasing functionality of a Web site through new products and tools without jamming the development pipeline or incurring more costs.
"The role is one that gets at an itch that a lot of publishers have these days," says Dann. "Technology is supposed to make things easier, but it's actually harder. The innovator does what a tech entrepreneur does, which is to make it easier, keep the company in touch with the cutting-edge things and take a lot of that heat off the development pipeline."

Data Quality Expert
Salary Range: $75,000-$80,000
Publishers that serve overlapping markets have made content re-use a critical part of their strategy. On the digital side, mapping that content in the content management system is a key function.
Tagging content requires a large library of keywords organized into complicated taxonomies. "The data quality position comes out of a need for content re-use, which is a key strategy for us," says Hanley Wood's Dann. "The position manages our controlled vocabulary of tags that we use to help aggregate content. Our multiple content domains overlap each other so it's important to get it right."
The position also manages the relationship of the advertising tags to the content tags—"In terms of not just creating them but on an ongoing basis verifying that everything is mapped to something else," says Dann. "You might have 150 words in your controlled vocabulary. Do you have stories tagged to them all?"