Top BusinessWeek Editor to Step Down

Stephen Adler to resign after acquisition finalizes; more departures possible.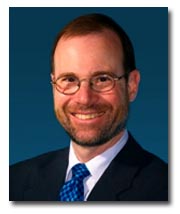 There have been some big editorial departures at BusinessWeek since parent company McGraw-Hill put the beleaguered magazine on the block this summer. The latest, and by far the highest profile, is editor-in-chief Stephen Adler, who announced to staffers Tuesday night that he plans to resign later this year when the magazine's sale to Bloomberg LLC is expected to be complete.
In a memo to staffers—first published by BusinessWeek media writer Tom Lowry—Adler [pictured] said he is looking forward to assisting with the magazine's transition to Bloomberg. "It was hugely important to me to help find the right home for BusinessWeek and to work closely with our business-side colleagues to ensure that staffers would be provided appropriate benefits under any circumstance," he wrote. "Now that these goals have been accomplished, I'm considering other opportunities, and I believe it makes sense for a new owner to move forward with a new editor."
A pair of sources told FOLIO: Tuesday that BusinessWeek executive editor John Byrne might be considering a departure as well. Byrne, who was said to be away this week on vacation, did not immediately return an e-mail seeking comment.
Since this summer, BusinessWeek senior writer Brian Grow, Moscow bureau chief Jason Bush, correspondent Aaron Pressman, senior correspondent David Kiley, and associate editor Matthew Goldstein all left the magazine.
Bloomberg agreed on October 13 to buy the 80-year-old print title and said it expected the deal to close before the end of the year. Norman Pearlstine, Bloomberg's chief content officer, was tapped to serve as BusinessWeek's chairman.
Bloomberg is not expected to ask all, if any, BusinessWeek employees to stay on following the acquisition.
Click here to read Adler's entire memo.
Meet the Author
---