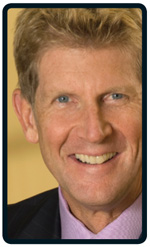 While many CEOs talk about shifting away from a dependence on print, Uphoff has overseen a dramatic transformation at UBM TechWeb.
Three YEARS AGO, United Business Media split U.S. trade publisher CMP Media into four separate businesses, led by four co-CEOs. One of those companies—UBM TechWeb—consisted of 65 percent to 70 percent of the old CMP but today is a very different company, according to CEO Tony Uphoff.
"At the time TechWeb was formed, 70 percent of our profits came from print," says Uphoff. "Today, print is 10 percent of overall revenue and profits, although ironically we can still keep the largest magazine in the IT sector in InformationWeek."
TechWeb came up with a foundational platform called "Curvanomics." "This was a clever way of articulating that myopic focus on audience and driving that audience up the value curve," says Uphoff. "Think of your audience as how many people you reach—then move them along that curve."
TechWeb also had to define the balance between media and business information—nearly 40 percent of the company's revenue comes from business information (paid content such as conferences, research and content purchased through analytics). "Part of the reason we wanted to look at that was the split between media and business information," says Uphoff. "This focus on audience allows us to develop this on a refined level."
Part of that approach includes making events (both live and virtual) the centerpiece and organizing other products around those assets. Nearly 50 percent of TechWeb's live event revenue comes from paid attendees. "We could use our reach in online and other areas to drive audience to events and move them up the value curve," says Uphoff. "The other thing is the amount of content we produce. We can capture that content digitally and move it around. If you and I were doing content planning—by setting a calendar of things we wanted to cover online, in print or digital issues—we could look at what people are paying for."
Today TechWeb sees about 45 percent of total revenue from digital, 45 percent from live events and 10 percent from print. 
VITAL STATS: Online and events were up 20 percent and 25 percent respectively in 2010, while print fell from 70 percent of revenue and profits in 2008 to 10 percent in 2010.