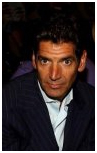 This story first appears on FOLIO: sister site, minonline.

Tom Florio, who as Vogue VP/publisher from 2002-2009 partnered with editor-in-chief (since June 1988) Anna Wintour to turn the magazine into a multimedia powerhouse (among the most famous was the movie "The Making of the September Issue"), switched to the b-to-b side yesterday (Feb. 13) with his hire as CEO of Advanstar's newly formed fashion group.
There is irony in Florio's hire during New York Fashion Week, where with Vogue he was a huge presence. But this year, Florio is in Las Vegas overseeing Advanstar's "Magic," the largest apparel trade show in the U.S.
Florio spent 25 years at Vogue parent Condé Nast, including pre-2002 publisher stints at Condé Nast Traveler and Gentleman's Quarterly as well as president of The New Yorker (1994-1998). He left CN as Vogue publishing director in June 2010 and served as a consultant to IMG in 2010-2011.
He is the youngest brother of 1994-2004 CN president/CEO Steve Florio, who passed away in 2007.