A Pair of industry Vets told listeners during FOLIO:'s "Analyzing Web Development Options" Webinar last month about the best tools for tackling site development on continually-shrinking budgets.
While digital "budgets were tens of millions of dollars" years ago, "in the past few years, Web 2.0, widgets and SaaS (Software as a Service) have enabled publishers to launch a site for next to nothing," says Joe Galarneau, SVP of operations and CIO for Newsweek, Inc. "You can still spend a lot of money on the Web, but you don't have to in order to have a great Web presence."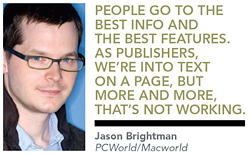 Even if you're late to the online party, Galarneau says: "It's never too late to start. Sometimes there are even advantages to starting late in the game." He cites Hearst's zero to 60 move to become a leader in the digital space after discontinuing outsourcing its Web operations to iVillage (due to iVillage's acquisition by NBC Universal in 2006). Even Newsweek lacked an independent site until 2007, when it launched a Web presence in conjunction with parent Washington Post Company.
While it's imperative for publishers to examine their content and monetization strategies before delving into Web design, Jason Brightman, director of Web design for IDG's PCWorld and Macworld, notes the plus side of digital space: a lack of brand loyalty. "People go to the best info and the best features," he says. "As publishers, we're into text on a page, but more and more, that's not working. I'd suggest asking yourselves: What would Google do? Google creates simple applications that do things really, really well. Publishers need to be in the mindset of building applications instead of just publishing articles."
Levers of Cost Reduction
Considerations for site cost reduction include offshore development—hosting your site versus third party Web hosting versus cloud computing (Newsweek has had great success with the Amazon cloud, Galarneau says). Yet another method for inexpensive site creation is in making smart software choices, like widget, SaaS providers and open source CMS options, says Galarneau.
While tech is key, so are staffers, thinks Brightman. "In the old days, people would invest in Oracle and build out other crazy technologies," he says. "But in these times, it's better to invest in people who understand this stuff and are capable of looking ahead at what's coming next. There are so many free tools and services that you can use to integrate and update your site without spending money."
As the former director of Web and emerging technologies at Harris Publications from 2002-2007, Brightman says they ran XXL's site, XXLmag.com, off of the WordPress installation. "WordPress is a fantastic, free CMS with thousands of plugins. A blog is just a stripped down CMS," he says. XXLmag.com was pulling in 25 million page views per month with this platform.
Get the Tools
So, what are the necessary tools for cost reduction while executing a quality final product? For site development, Galarneau recommends Squarespace, a fully-hosted and managed platform for a blog or site; Weebly, which offers a drag and drop interface and free domain hosting; and SiteKreator, a Web site platform that offers visitor metric analysis, online marketing campaigns and community. Blogging platform suggestions include Typepad, WordPress and Blogger.
For the majority of publishers in the Twitter world, Brightman recommends Tweetdeck.com, a browser that organizes and displays multiple Twitter feeds, and tools from Smashing Magazine's "99 Twitter Tools". Brightcove, Magnify.net, Ooyala and Fliqz are solid video platforms, and OpenAds.org is the pick for advertising since it can "run, track and manage campaigns just like DoubleClick, but for free," says Brightman.
For those not yet using analytics, Brightman suggests beginning with free programs like Google Analytics or Quantcast.com. "Between all of these, you can create a site to compete with anyone out there," he says.