What should a metrics report include? One thing is for sure: it needs to be more than what we report in our BPA statements. But how do we decide what that 'more' is and who should have access to the data? Here I'll highlight what a metrics report is and how to create one with all the data points needed to make it a complete report that almost everyone in the company will love.
First, a metrics report is a method of measuring the results obtained from different sources. In this case we are looking for our audience numbers. The kinds of sources we use in the metrics reports depend on how big of a picture, by brand, we want to see of our audience. At NewBay Media, our metrics reports include monthly numbers from our websites, newsletters, social media, digital platforms and print distribution.
It was important for us to have one central report that provides a big picture of our audience from all of these sources. This helped us determine if it made sense to report them in the brand statements for BPA, but also to keep track of how our audience might be growing on one end and decreasing on another.
Starting a Metrics Report
1. It doesn't matter when you start, you'll need to go back and gather all the numbers from December 2012 to current.
2. For the Google Analytics, you can either look the unique visitor and page views by month or you can select the time period you need, the metrics you want, and download to Excel.
3. Most of our brands have weekly or daily newsletters—we add an average for the month in the metrics report.
4. For Twitter you'll need to capture this data at the end of each month, unless you pay for access to twittercounter.com or other service. If you are capturing this data to report on a BPA statement, you'll need to do screen grabs of each month and save them for audit purposes.
5. If you have admin access for your Facebook page, then you can easily log in and download the metrics for the time period needed. If you are not an admin (if you aren't, you should be) then you'll need to create screen grabs as well.
6. Don't forget to add your LinkedIn group metrics as well. You just need to create a screen grab at the end of the month.
7. Remember to include all your iPad downloads. This is important if you are going to be reporting iPad downloads on your BPA brand statement. The good thing is that all you need to do is either take the numbers from your Apple raw data reports or create an account with AppFigures and grab the numbers from there.
Once we had these reports created and up to date we were able to meet with the publishers and have them decide what they wanted to report in the new BPA brand audits. The most impressive thing that came out of these meetings was that the publishers wanted to see these numbers not just for BPA reporting purposes, but on a monthly basis for all of their brands, even those without a print component.
Why? Because of the "big picture" and how they can monetize this data by selling Facebook posts and tweets from the editors on behalf of the advertiser. This can also be done with LinkedIn groups. A discussion can be set up about a product and links on where to get more information. This will turn into leads for the advertisers. And last but not least iPad downloads show the audience we have with the container app, and this gives the publisher the ability to also sell to this audience.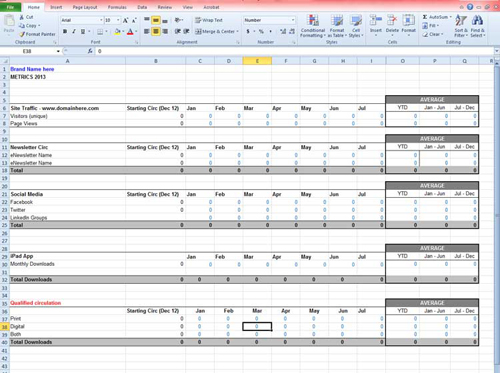 Next Time:
I'll talk about push notifications.
Until then…