Last month, FOLIO:'s sister magazine, Audience Development, held its annual conference, which focused on the changing role of circulators and the best practices they need to apply to a job—which, like almost every publishing discipline—is becoming more focused on digital initiatives.
This article offers an overview of some of the tips and best practices heard around the show.
Optimizing E-Mail Lists
Jim Wessel, audience development director at Watt Publishing, showed attendees how his company created separate channels for their e-mail lists in order to keep track of how many e-mails their customers were receiving and how often. Wessel shared how a repeat blast with the same message could be more successful by removing opens from the list each time the e-mail is sent out. It not only raised the amount of leads, he said, but it also decreased the amount of complaints that were received.
Managing Paid Content
As publishers attempt to charge for certain parts of their Web sites, the experience of The Wall Street Journal Digital Network is that it's critical to clearly identify what kinds of content the visitors are looking at. "This has been a big departure for the Network, which purposely kept content levels vague," said president and keynote speaker Gordon McLeod. "Now, visitors can tell at a glance what content is premium and what is not. It's really helped make subscribers feel more comfortable because they're seeing that most of the site can't be accessed and it's the most valuable content. On the other hand, as we bring in more free users, it gives them a sense of the quality of the paid content and our upsells are easier."
• The Wall Street Journal Digital Network simplified its registration process and has seen improved results. "Our first attempts at registration were four pages long," said McLeod. "Successful registration conversion has depended on quick and easy registration forms—'light registration'—customized product offerings, and additional benefits such as community functions that can only be used if you register."
• Don't skimp on the back-end e-commerce system. "A lot of people haven't figured out how to charge for content yet but for us, figuring out the e-commerce part was harder than actually getting people to pay," said McLeod.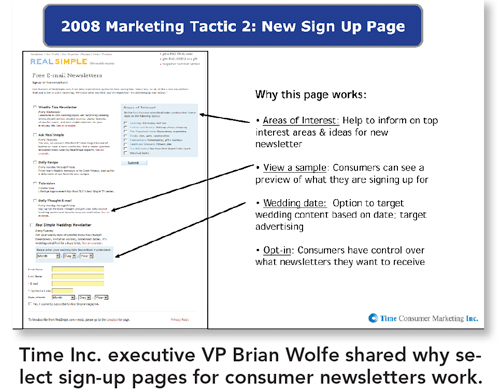 Lead Generation
Questex Media circulation director Heidi Spangler said advertisers are given access to audience files on a limited basis. "This would have been totally taboo five years ago and today we set strict limits on what they can see and how they can follow up." Spangler also advised publishers to set an ad spending requirement for lead generation programs and stick to it. "We always have salespeople saying, 'Can we offer this client a break, I think I can get them to sign up for a new ad,' but if you do, it devalues the program."
• Spangler warned that if a reader converts a newsletter from HTML to text, the publisher won't get an 'open' response for that newsletter.
Driving Engagement
Stephen Wellman, director of community and content, Ziff Davis Enterprise:
• "We upgraded our [Web site] comment modules and went from getting one comment every 20 articles to getting a comment on 25 percent of our articles, which is a significant boost. And it was just making it higher profile and easier to make a comment. You want to own that engagement and get it on any platform you can, but if you can get it on your own Web site, it's even better."
• "In the online universe, the content is the chief marketing vehicle to acquire subscribers. So editors should be much more involved in the initiatives you're using to get new audience members to the site. It's the content that's going to bring subscribers in, grow the database, the newsletters and your page views. If you're not getting that intelligence feedback [between editors and audience developers] you're not going to be successful at social media or any other online initiative."
Brendan Monaghan, director, business development, The Slate Group:
• "We have a lot of readers that follow our writers and they want that engagement to not be around a specific piece of content, but sometimes around a writer. John Dickerson, who's our main political writer on Slate.com, has over 400,000 Twitter followers and they're really passionate about what he does. He engages with them directly by Twittering frequently, whether he's at a White House event or Twittering his own blog posts. People are engaging with him personally. That is something from a b-to-c perspective that is important—getting that interaction between the community and the writer."
Partnership Marketing
"Never refer to partner copies as free, they should always be 'included in your purchase'" said Stacy Sass McAnulty, partnership director for The Parenting Group at Bonnier Corp. "Also, small partners are just as much work as big ones, make sure it's worth it."
 
• Kate Lowery, partnership coordinator at Time Out Chicago, said that sponsors must pay at least one cent per subscription or it won't count.
Social Media
Facebook is finding new relevance for both mass consumer and targeted b-to-b publishers. Playboy's director of online communities and social platforms, Paul Thomas, says that Playboy started out building its own networking products on platforms like Ning but now finds Facebook more cost efficient. "We're putting more resources there and getting more response," he said.  
• Facebook is also paying off for b-to-b publishers such as Bobit Business Media, which publishes Police. "Our editors didn't think having a Facebook page would be worth it but we did a search and found 600,000 users with law enforcement in their profile," said director of marketing and e-media Christine Oldenbrook. "We set up a fan page and had 100 fans overnight. Our editors will use it to push content while we market subscriptions through it."
• The rise of social media will change how customers react to e-mail, according to consultant Lou-Ann Sabatier. "Because of Facebook and Twitter, the way people interact with e-mail is different. E-mail used to be quickest, the cheapest and the most personal—that's not true anymore. Don't be surprised—even in b-to-b markets—if you see responses go down."
 
• However, Vital Business Media founder Prescott Schibles warned publishers, "If you start a Facebook group, you don't get much data. That data file isn't ours any more than it's the customer's. Right now, publishers aren't concerned with the fact that users can just walk away with their data. At some point, the idea of data portability will trickle down from the dot.coms."
 
Fulfillment Bureau
Heather Holmes, vice president of circulation and consumer marketing at Technology Review, spoke of the importance of having a fulfillment bureau that offers online documentation and reports.
"Having data delivered so timely changes my role from being reactive—which I've grown accustomed to—to being proactive," said Holmes.