Tinypass Gets Bigger With Swishu Acquisition

Company gains tech, clients and human capital in deal.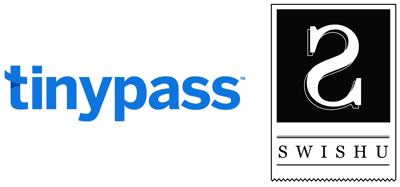 Tinypass, a Web monetization solution provider, is expanding into the fulfillment space by acquiring startup Swishu.
Tinypass was founded in 2011, and its clients include Hearst Magazine brands, Esquire and Cosmopolitan, as well as independent sites like Andrew Sullivan's The Dish. The company offers a slew of commerce and digital content solutions; but CEO, Trevor Kaufman, says there was a clear demand for paid content and digital fulfillment services.
"It's something our clients have been asking for," he says. "Most publishers we talk to are frustrated with their ability to solve their print subscriber base, that's not the problem we're looking to solve. We're much more focused on the fact that banner ads alone are not going to sustain premium publishing. But if we're just focusing on the website we are potentially leaving them [publishers] with a headache for managing their legacy subscriber base."
Managing that subscriber base is where Swishu comes in. The startup offers paywall solutions for publishers, radio stations and bloggers, plus extras like subscriber database integrations and real-time analytics.
In addition to the technology, Kaufman says human capital was an important factor in the acquisition. While he would not disclose specifics, he indicates the transaction included cash and equity, plus Tinypass is bringing in the entire Swishu team of five, including its founder, Nathan Goulding, who will now serve as vice president of product engineering.
Tinypass and Swishu will be maintained as two separate products for now, but Kaufman contends that the plan is to bring them together as quickly as possible. "We are maintaining the code bases separately so we don't disrupt our clients," he says. "The Swishu staff will be focused on how to bring the code base together so we have one product."
Kaufman also suggests that the company is working on several other innovations that go beyond the current suite of monetization tools publishers have at their disposal.
"Right now there is a tremendous amount of activity in display and not much after that," he quips. "What we're focused on is being a one-stop shop for publishers. We are trying to develop a way to reward readers. There's a rich functionality in that vision, and we think that's going to put a lot of money in publishers' pockets."
Kaufman is referring to an exchange system where readers can be rewarded for social shares, registrations, ad views and other standard practices in content consumption. It's currently in development. "This a frontier that not a lot of publishers have been able to experiment with, there's so much opportunity we're seeing on the publisher side," Kaufman says.
Meet the Author
---