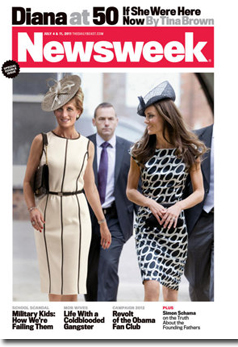 This story originally appears via Yahoo's The Cutline.
One of the reasons Tina Brown and Barry Diller acquired Newsweek and its substantial debt earlier this year was desire of Brown–former editor of Vanity Fair and the New Yorker–to be part of what she calls "the conversation." This week, she not only took part in the conversation; she became a good bit of it.
Brown photoshopped the late Princess Diana onto the July 4 cover of Newsweek next to Kate Middleton, and the accompanying cover story by Brown imagines what the people's princess, who would've turned 50 on July 1, would have been like had she lived. Inside, there's another photo illustration of a resurrected Diana clutching an iPhone.
In other words, pure fan fiction.
For the rest of the story, click here.