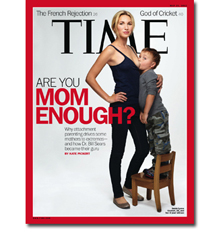 If TIME's latest cover sets the newsstand a-buzz as much as it has the social web it should have a hit on its hands. The May 21st U.S. edition touts a cover story about "attachment parenting" by featuring a young mother nursing her 3-year-old son who's standing on a chair and attached to her left, mostly exposed, breast. Both stare straight into the camera with practiced ennui.
With the main cover lines shouting "Are You Mom Enough?" the cover is casually confrontational while subtly daring you to judge the concept itself.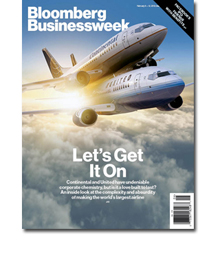 Media writer Jack Shafer quipped on Twitter that TIME has "Businessweek cover envy," alluding to a steady stream of provocative covers from Bloomberg Businessweek. That magazine's recent cover story on private equity was illustrated by an "American Psycho"-inspired, chainsaw wielding financier and was called out for misrepresenting the pro-private equity piece. Similarly provoking, but really more funny, a February Bloomberg Businessweek cover features fornicating jetliners. Hey, sex sells. But a Continental-United business merger? Not so much.
The Economist is another weekly title that has used its covers to make its readers think, and sometimes chuckle, rather than bashing them over the head with the obvious.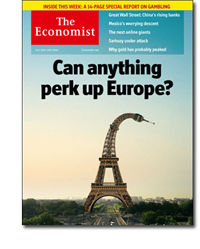 Envy or not, the newsstand is becoming a grim place to do business. The temptation to be eye-catching by tickling a funny bone or challenging a single-copy buyer's social or moral boundaries is high. But it's a fine line between nudge-nudge-wink-wink and this. One step over that line and you've abandoned wit for poor taste.
Done right, however, and with some consistency, you can serve up a level of anticipation among readers and an added layer of personality to the brand—especially those with a weekly frequency.