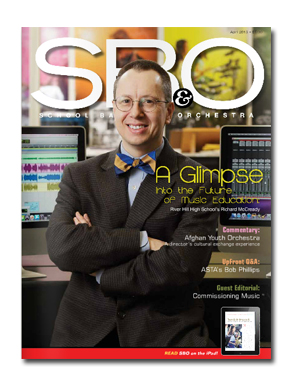 Four new titles will be added to the portfolio of Timeless Communications Corp., a Nevada-based b-to-b publisher serving the international live event technology and theater markets, with the acquisition of Symphony Publishing, the company announced Tuesday.
The newly acquired titles, which include Musical Merchandise Review, JazzEd, Choral Director and School Band & Orchestra, serve the musical instrument and music education markets. The brands join the company's existing assets, Projection Lights and Staging News, Front of House and Stage Directions.
Terms of the deal have not been released.
With the addition of these titles, Timeless Communications Corp. (TCC) will add 40,000 new subscribers to its file, totaling 100,000 professionals in the music and event production industries subscribing to its seven magazines.
"The acquisition of these titles allows TCC to deliver our clients' message through a variety of sales channels," *Terry Lowe, president of TCC, says in a statement. "With the Symphony titles, we're able to provide our clients with accessibility to new markets. Currently we reach high-end professional users, venues, and resellers in the live event technology market. Now we will be able to provide our current clients access to retail and consumer markets for their down-market products."
It is unclear whether existing employees and personnel will be maintained—TCC says that with the current acquisition, Symphony Publishing's Massachusetts office will be closed as of June 1, with the production and business office of the magazine brands being transferred to Las Vegas.
All of the titles in the Symphony Publishing portfolio, along with the current TCC magazines, have a full complement of digital media products associated with them. Each magazine has its own website, email newsletter, and digital edition and is accessible on all mobile devices. TCC plans to redesign its new assets within the next year, and will roll out a revitalization of the digital infrastructure of these properties.
Symphony was a wholly owned subsidiary of Cleveland-based Zapis Capital Group. John McGovern, senior associate, W.B. Grimes & Company, represented Zapis in the transaction.
*Editor's Note: An earlier version of this article misspelled Terry Lowe's name. It is Lowe, not Low.
Stay updated on the latest FOLIO: news, follow us on Facebook & Twitter!