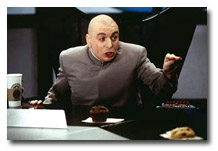 The recent financial losses on Wall Street were bad news for investors, but good news for the traffic to financial Web sites. You can use this news item to move along your dialog on why it is essential to maintain media spending during a recession.  
First, the news item:
ComScore Media Metrix, a company that ranks the Top 50 U.S. Web Properties, found that in September 2008 visitors to financial sites were up substantially:
"Business/finance – news/research web sites saw a substantial increase in visitation in September, gaining 9 percent to more than 64 million visitors, while also increasing 16 percent in pages viewed and 29 percent in total time spent. These increases suggest that not only were more people visiting the sites in the category, but that they viewed more articles and content for longer periods of time on average.
Yahoo! Finance led the category with nearly 20 million visitors, a 30 percent jump from August. Several other sites experienced particularly strong growth amid the financial frenzy, including Russian financial site RBC.RU (up 155 percent to 1.2 million visitors), FoxBusiness.com (up 127 percent to 1.2 million visitors), and Google Finance (up 67 percent to 1.4 million visitors)."
On a call:
No matter what industry or product category you sell in, if it has been impacted by the recession, this news item can help you.
First, share the story how traffic on financial Web sites has shot up. Next, have a dialog about why. When the bad financial news came, investors (your client may be one of them) needed to know what their options were. They quickly reevaluated their financial product holdings, evaluated new ones, and decided to hold steady or make changes. Many, if not most, were focusing on issues and products they normally pay little attention to, as the increase in Web traffic indicates.   
Get it? Bad news drives attention and reevaluation of products that buyers routinely do not think a lot about. How many of of your advertisers have products that can be described in this way?
Now ask your advertisers, "Is this a time when you can afford to be silent?"
Read the full comScore report here …
[IMAGE: Credit]