Time Warner's Break-Up Man?

New investor relations head has recommended divestments in the past.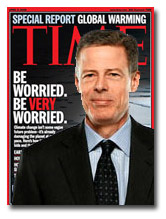 The New York Times reports that Jeffrey Bewkes [right], who takes over as Time Warner CEO in January, has "quietly" hired Douglas Shapiro to head up investor relations. Shapiro was formerly an MD and research analyst for Banc of America Securities and joined Time Warner a month ago.
Coincidentally or not, a February report by Shapiro on Time Warner had a buy recommendation on the stock at $25 a share because "we think there is a chance it pursues a restructuring eventually, including possibly divesting publishing or AOL, or even a full breakup of the company into its four logical components." That would include Time Inc., presumably.
If Bewkes eventually does take Shapiro's advice, here's what a spun-off Time Inc. might look like.
Meet the Author
---