TIME Utilizes Foursquare For Political Conventions

Badges supply users with editor-curated event suggestions, tips and more.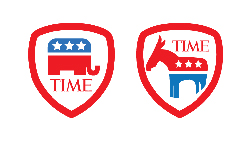 "The weird thing about going to conventions is that everyone from the political world is there, but no one really knows where everyone is, physically," says TIME Washington Bureau chief and executive editor Michael Duffy. "Sometimes the hardest part about being there is finding where everyone is."
In part to alleviate this issue, TIME partners with social check-in network Foursquare for the 2012 political conventions. At the Republican National Convention in Tampa, FL from August 27-30 and the Democratic National Convention in Charlotte, NC from September 3-5, convention attendees can unlock TIME/Foursquare badges. These badges will offer editor-curated lists of venues, events and convention tips.
"We're also working on ways to visualize this on TIME.com," says Duffy. This visualization will take the shape of updates from reporters, politicos and convention notables as they check into Foursquare.
TIME already uses Foursquare for editorial purposes, linking magazine covers to historic U.S. locations. In addition to campaign reporting, TIME's team will also use the Foursquare platform while on location at this week's SXSW conference in Austin, TX.
"The great thing about political conventions is that 35 to 40,000 of your closest friends and political leaders are gathered in a relatively small space for a few days," Duffy tells FOLIO:. "We're trying to create a community of people with a common interest and keep them informed, which is what TIME has always done."
Meet the Author
---