TIME Starts Tumblr Account

The news magazine debuts blog about itself.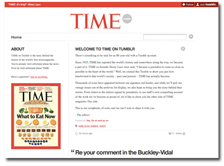 TIME has just launched another Tumblr account. The blog conforms to the microblogging site's format by presenting a scrapbook of historical references and documents, vintage issues and behind-the-scenes accounts.
According to the magazine's welcome note: "Thousands of icons have appeared between our signature red border, and while we'll pull our vintage issues out of the archives for display, we also hope to bring you the story behind their stories. From letters to the editors signed by presidents, to our staff's own compelling account of the work we've become so proud of, we'd like to show you the other side of TIME magazine. Our side."
The dedicated account joins TIME's LightBox Tumblr, a spinoff of its already-established LightBox blog.
Managing the new site are TIME's social media producer Allie Townsend and Simon Fung, TIME's interactive designer.
One tactic that's already clear is the posting of TIME magazine name-drops by celebrities and TV shows. References to the magazine by Ally McBeal and Saturday Night Live are there, as is a quip by Zsa Zsa Gabor in a 1969 letter to the editor.
It's a lightheartedly pragmatic and productive use of Tumblr. Other magazines use the site as another curation tool, pointing to items and stories of interest in a particular market. While that approach works, too, TIME keeps the attention on itself, amplifying the brand's impact as a cultural, as well as journalistic, influence.
Case in point: a post of the debut cover of People reveals that the magazine started as a department in TIME.
Meet the Authors
---