Time Share on Mobile Devices Expected Grow to 23 Percent in 2014

Digital media now consumes more time than all traditional platforms.
Last year, mobile usage proved to be the catalyst pushing digital media into the forefront over all traditional platforms–including TV, radio and print. According to a recent study by eMarketer, digital media–which includes online, mobile and "other"–accounted for 43.4 percent of time spent with major media. That figure is up from 38.5 percent in 2012 and is expected to reach 47.1 percent in 2014.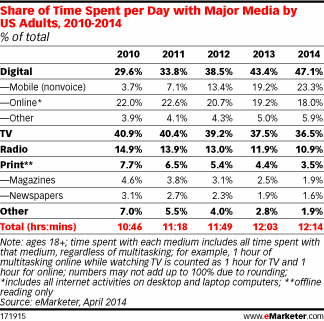 Mobile is now neck and neck with online–with both figuring in at 19.2 percent of the 43.3 percent digital aggregate. However, mobile is expected to outpace online in 2014 and will eat up a projected 23.3 percent of time spent versus online at 18 percent.
This is the first time digital media has surpassed TV as the leading media platform. Television now accounts for 36.5 percent of total consumption time–down from 39.2 percent in 2012. And print is down to a mere 4.4 percent, dropping a full point from 2012. In 2014 that figure is expected to decline nearly a full point again-down to 3.5 percent.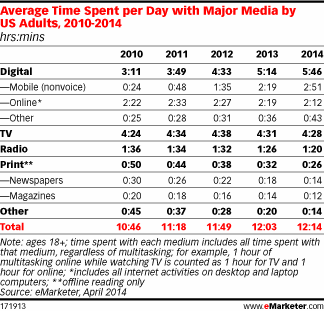 There's more bad news for the print medium. Since 2010, average time spent with a print product has been nearly cut in half. Respondents said in 2010 they spent an average of 50 minutes per day with a print product. Today, that is down to 32 minutes, and is expected to fall another 6 minutes in 2014.
Magazines still trail newspapers in that time split, but only slightly. In 2013, newspapers tallied an average of 18 minutes a day versus 14 minutes for magazines. In 2014, both figures are expected to drop, but magazines will close the gap, with newspapers clocking in at 14 minutes and magazines at 12 minutes.
The silver lining for traditional media is the overall uptick in consumption. In 2010 media consumption averaged 10:46 (in minutes) and in 2013 that time increased to 12:03. So while traditional media consumers maybe migrating to new platforms, their appetite for  content is not waning.
Meet the Author
---