Time Out New York Launches E-Commerce, Daily Deals Platform

Relaunched site, new iPad apps part of strategic digital media expansion.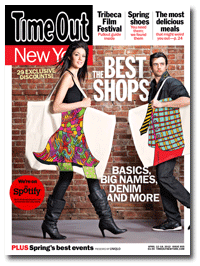 Moving forward with an expanded focus on digital media, Time Out New York (TONY) has integrated e-commerce and daily deals into its website and newly-launched apps.
Users can now purchase theater tickets and book tables at restaurants directly through the site and apps. TONY's new "Offers & Experiences" platform offers daily discounts from local niche companies.
"When people used to come to our website and start planning their evening, they subsequently had to go to other websites to book," says Aksel van der Wal, president of Time Out North America and COO of Time Out Group. "From our perspective, it's a much better user experience if they can book on our website as well."
From a strategic standpoint, it's also a revenue generator for the company. TONY receives a revenue share from all transactions—a percentage that varies depending on the vendor relationship, says van der Wal. For restaurant bookings, TONY partners with reservations site OpenTable; for theater tickets, the company works with local theaters. Daily deals are mostly offered through existing advertisers and is "an extension of what we offer our business partners," says van der Wal.
The new apps, for iPad and iPhone, are designed to offer relevant, targeted suggestions based on user activity and are powered in part by the personalization algorithm provided by LikeCube, a UK-based semantic analysis company Time Out acquired last August. The apps will also offer picks from TONY editors.
The iPad app will launch in London within a couple of months, and van der Wal expects some of the company's licensees in 35 global cities to have "picked it up" by then as well.
Formation of a Global Digital Media Group
Private equity firm Oakley Capital acquired a majority stake in Time Out New York last May, following its initial investment in Time Out London in November 2010, with the goal to create a global digital media group called Time Out Group.
Part of the plan was to develop a single multi-channel online platform powered by a central content database and transaction engine. TONY's shift to the new timeout.com/newyork domain is a move to unify the site with Time Out Group's other global properties.
Since Oakley's acquisition, Time Out also purchased daily deals site Keynoir and luxury shopping site Kelkoo Select, in November and December respectively, in an apparent attempt to acquire the companies' e-commerce capabilities.
Despite this push to a digital focus, van der Wal says Time Out has no current plans to back off print. "Print is still extremely important for us," he says. "Like with any print product in the last years, print is under pressure. That's no news. But it's still a crucial part of our offering."
TONY's print circulation is just under 150,000, while it's main website drew 1.85 million unique visitors in February—according to van der Wal, a 91 percent increase since Oakley's acquisition of the company last May.
Meet the Author
---