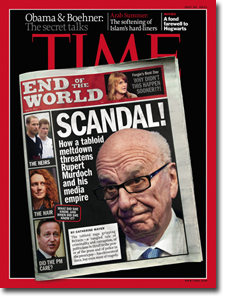 Beginning this week, TIME is offering subscribers "All Access" on its multiple platforms. For one price, TIME readers will be able to access the print edition, a new TIME.com magazine channel  featuring magazine-only content previously not available on the Web and digital issues on the iPad, HP Touchpad and Samsung Galaxy Tab.
Last year, TIME.com began offering less of its magazine content online, with about 95 percent of TIME.com's stories created specifically for the site. When subscribers purchase the All Access deal, they will be able to access this content directly from the site. Those who do not subscribe are only able to view the first few sentences of the magazine content.
All Access for TIME is priced at $30 for a full-year subscription, which includes 56 print issues, complete online and tablet app access. For a one-week "short-term pass" for magazine content on its site, TIME is charging $4.99.
There is also a $2.99 per month subscription option, an offer including the print edition of TIME, tablet issues and the magazine channel on TIME.com. This subscription can be cancelled at any time without penalty.
In February, Sports Illustrated launched a similar "All Access" model, though at the time the package was available only on Samsung's Galaxy tablet and Android smartphones. In May, Time Inc. and Apple reached a deal, allowing print subscribers of SI, TIME and Fortune free access to digital editions.
At the time, a Time Inc. spokeswoman could not provide exact details of the deal between Apple and Time, ""As far as I know there's no way for them to track [this] and there's no revenue stream for them [Apple] for this [deal]; they're our subscribers and it's an added benefit for them," she said. "We do have apps in the app store and you can still buy single copies in Apple's app store. But for this particular arrangement [for] current subscriber[s]."
As it did with Sports Illustrated, subscriptions can be initiated via a
dedicated website. The iPad app will not be using Apple's subscription
service, reports All Things D's Peter Kafka.
Using Apple's new terms, iPad users will be directed to the website to
purchase and download the apps. This leaves Time Inc. without the
ability to direct customers to the website from within the app, or
avail themselves of the App Store's market heft, but the company does
retain all customer info and all of the subscription revenue.