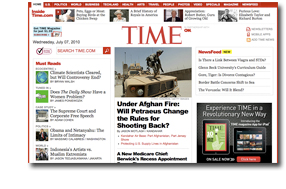 After what appears to have been a month or so of experimenting, Time Inc. has walled off the full content of Time magazine online. Magazine articles are now presented in "abridged" form with a note funneling readers to either subscribe to the print product or buy an iPad app to see the full stories.  
To be sure, magazine content is a very small portion of what's freely available on the site overall. According to a spokesperson, who confirmed the new strategy,  90 percent of Time.com's content is considered "original," meaning non-magazine content.
On the site, non-subscribers are presented with a portion the magazine story with a notation at the start that says "The following is an abridged version of an article that appears in the July 12, 2010, print and iPad editions of TIME."
At the end of the excerpt is another note that prompts readers to subscribe or download the iPad version to read the magazine in its entirety.   
While not exactly a paywall, the move does corral non-subscribers who want to read the magazine content into a paid trajectory and closes the window on an argument mass market publishers have been chewing over for almost 15 years. It also preempts the argument iPad readers could make about magazine content being available for free on Time.com and offers further separation, for good or bad, between the print and digital brands.