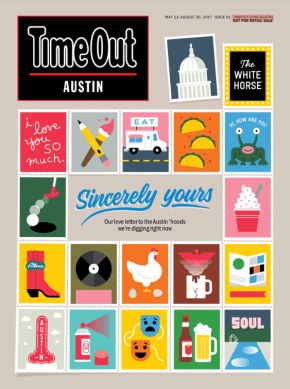 If you find yourself walking around South Congress looking for something to do, you're in luck. The first quarterly print issue of Time Out Austin came out today, Thursday, complete with the restaurant reviews, events, and entertainment readers have come to expect from the global brand.
Just like in New York, Chicago, London, LA and Miami, Time Out Austin is free, with its circulation of 75,000 passed out by branded street teams, and distributed at local eateries and retailers.
Time Out has had a digital presence in Austin since June 2016 through its digital city guide. The Austin vertical is just one of 108 city guides across 39 countries. There are print magazines in 40 of these cities. Globally, Time Out claims a monthly audience of 156 million.
The brand will also host its first event in Austin with the Time Out Bar Awards, a global program that highlights the best places and people in libations.
Erin Kuschner, who joined Time Out Los Angeles in 2014, relocated to become editor of Time Out Austin, both in print and online.
"Austin is a perfect fit for Time Out — a city robust in its cultural offerings with an ever-changing food, drink, music and theater scene," Kuschner said in a press release. "We're delighted to bring our hyper-local know-how and unique, curated content to Austin digitally and now also in print to inspire and enable people to make the most of this city."
As Time Out spreads its wings, it flies into tight airspace. Austin is already home to several regional magazines. These include Modern Luxury's Austin Way, Open Sky Media's Austin Monthly, and the independent city guide Tribeza.
Tribeza, which launched in 2001, is also distributed for free at a circulation of 60,000, With a square design and thick paper, the magazine focuses on a curated approach to local culture.
"We know we can't cover everything, but we work hard to curate coverage on what we believe represents the best of what Austin has to offer," George Elliman, CEO and publisher of Tribeza, tells Folio:.
When asked about the print landscape in Austin, Elliman says that it's limited, particularly because local advertisers prefer to support other local businesses.
"Austin is fiercely local first and very loyal when it comes to many things like food/restaurants, art/artisans, fashion, etc., and it can be hard to start up if you are from the outside," Elliman says. "It is a very different mindset from other similar sized and larger cities that I think is somewhat unique to Austin."