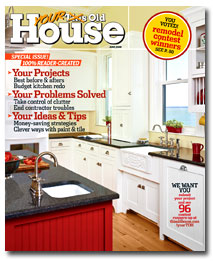 This Old House has become one of the latest magazines—and
first Time Inc. title—to publish a 100-percent reader-created issue.
The 950,000-circulation title's June issue is comprised
entirely of reader-submitted photos and stories of do-it-yourself projects. (It
also features a special "Your Old House" logo with the word "This" crossed out.)
Executive editor Kathryn Keller says the magazine received
thousands of e-mails, letters, photos and projects since editor Scott
Omelianuk's first call for submissions in his December editor's letter.
In addition to the letter, the magazine created a dedicated
microsite for readers to upload materials and then called for submissions at
the end of magazine stories, in e-mail blasts and at the end of the This Old
House television show.
According to Keller, the magazine plans to do this again on
an annual basis. "But just as important," she says, "we received so many great
tips and projects from readers—and they're still coming in—that we're going to
continue showcasing them in each issue. We definitely want to keep the
conversation going."
Though ad pages were up 3 percent over last year with this
issue publisher Matt Turck told FOLIO: that the magazine "actually had to
invest a little more than usual" to create it, due in part to the costs
associated with building and managing the microsite. However, he says, "it was
an advertiser success and early signs show a consumer success—we plan to do it
again."
User-Gen Trend
Earlier this month, Budget Travel published its own
user-generated June issue. The magazine solicited roughly 2,800 pitches from
readers and included submissions from 324 contributors. In
a blog post for FOLIO:, editor Erik Torkells wrote, "Let's be perfectly
clear. Making this issue was neither cheap nor easy." The magazine paid "normal
fees" to contributors as well as travel expenses for companions and had to do
an "extraordinary amount" of editing.
8020 Publishing, which formed in June 2006, produces its two
reader-generated titles Everywhere and JPG with a total
staff of 19, and may be profitable by next year. The company is reportedly
considering similar titles for foods and car enthusiasts, if the demand among
its online community reaches critical mass.